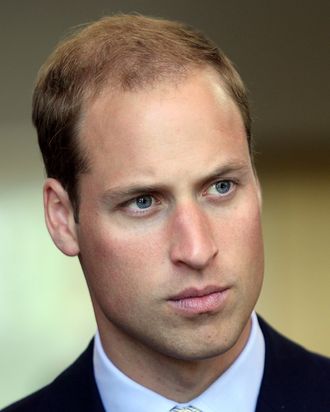 This is Wills' "quiet rage" face.
Photo: Chris Jackson/Getty Images
With TMZ's publication of those naked photos last night, Prince Harry regained his status as the young black sheep of the Royal family. That's what you get for waking up in Vegas. The Daily Mail reports that palace staff are "locked in meetings" deciding how to spin the crisis; Us Weekly's "royal insider" spills the hardly shocking news that William is "not impressed" by his bro's bro-worthy antics. (My fiercely patriotic grandmother, while not quite a royal insider, felt similarly.) Other Royal/related-to-a-royal reactions: Camilla, Duchess of Cornwall got the giggles and then nearly choked on her morning's caviar on toast; Pippa Middleton thought "gosh, won't someone remember my pert butt cheeks," and the Queen, well, this is how the Queen feels.