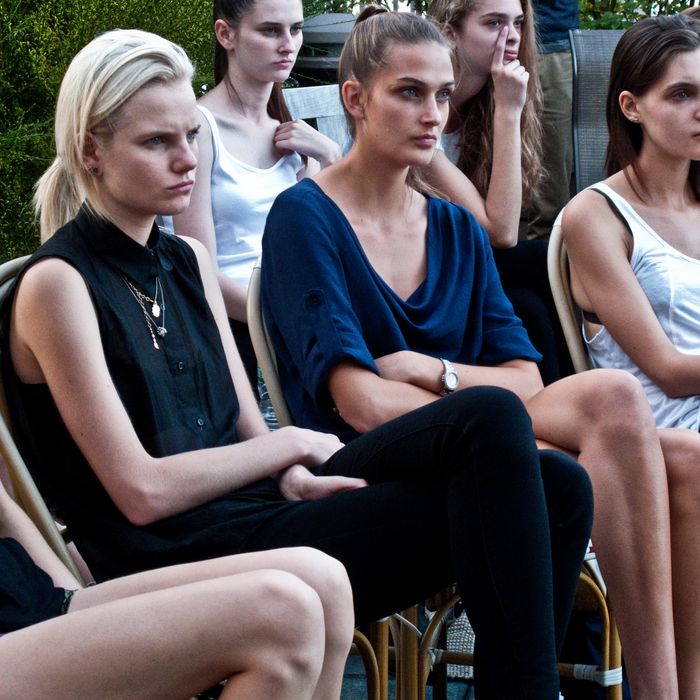 Models at IMG's Fashion Week Prep 2012.
Photo: Spencer Mandell
Last night, 27 teenage models gathered onto the palatial outdoor deck at the Park Avenue office of IMG Models. Fanned by a warm evening breeze and surrounded by trees strung with glowing Christmas lights, they joked and giggled as they dug into platters of sandwiches and wraps, plucking food off their plates with their long limbs like grasshoppers nibbling on leaves. Many of them came straight from go-sees and wore the standard uniform of baggy tank top, black pants, and high heels. They were there for IMG's Model Prep 2012, a twice-yearly event hosted by the agency to prepare the girls for New York Fashion Week.
The speakers included a number of well-respected fashion industry folks, including casting director James Scully, creative director Nian Fish, and models Jessica Stam and Lonneke Engel. Each were there to explain to the girls — most of whom are first-timers on the New York runways — what to expect from the whirlwind of castings, tests, shoots, and runway shows that's about to begin. Also on hand was psychotherapist Betsey Selman-Babinecz, who offered tips on coping with the stresses of Fashion Week (in a nutshell: call your friends and family at home a lot). Each attendee was also handed a booklet of contact information for resources like dermatologists, ob-gyns, counselors, grocery stores, and of course, places to shop.
IMG has offered this event for six years now, and, according to David Cunningham, the agency's vice-president of development, it seems to be a big help. "It's not the solution, but it's a start," he said. "Hopefully girls take a deep breath after this and put everything in perspective. They all need to know that they'll be okay if they don't book Calvin Klein." The event is not mandatory, but IMG asks that all their first-timers come, and everyone unusually attends; the experienced model speakers are often a highlight. "It's good that we have Jessica [Stam] and Lonneke [Engel] speaking, because they've both been through some hard times," he said. "They've both seen the best of it, and they've both had times when they've been like, 'Oh my God, nobody wants me.'" 
The takeaway from all the speakers can be summed up in the following points:
1. Be on time. 
2. Bring healthy food like fruit and nuts with you because otherwise you will starve or, even worse, cave and eat something unhealthy like — gasp! —  white bread.
3. Don't take it personally when people say mean things about you to your face.
4. Don't take it personally when people reject you.
5. Don't take anything personally, really.
6. Again: be on time.
Nian Fish, who was tapped last year by Anna Wintour to head up the CFDA Health Initiative (on top of the creative consulting work she does for Calvin Klein, Chanel, Ralph Lauren, Jil Sander, and other clients), spoke first. She didn't mince words: "We use your beauty and your looks to sell things," she said. "In the process, you may go through things that hurt your feelings." While she was clear about the fun aspects of modeling — "You girls are will get to travel the world, and you'll have a blast" — she was frank about the realities of the industry. "Start thinking about what you want to do after this. And start thinking about it now," she advised.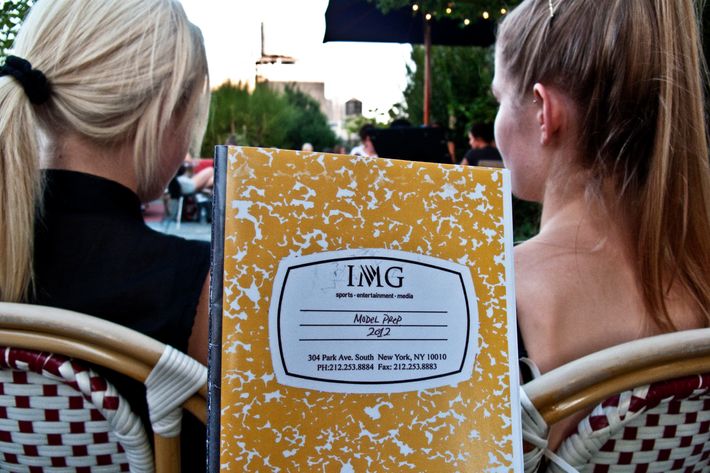 Indeed, handling nasty, stressed-out people seemed to be a theme of the evening. "You'll have things said to you that will seem unbelievable at the moment," explained casting director James Scully. "Sometimes people don't have your interests at heart when they're trying to get a job done." He reiterated the importance of not taking things personally, although he admitted that it's impossible to remain unfazed sometimes. "You're going to have some tough knocks," he warned. He recommended calling your agent if you're ever upset, and staying in touch with loved ones back home. Also, a tip: don't wear ponytails, because when you go to castings you'll have a ridge in your hair, which apparently irks stylists.
The highlight of the evening was undoubtedly when Jessica Stam, her hair still dyed black from a LOVE shoot, took the microphone and spent over 20 minutes — literally — expounding on the merits of being on time. It eventually became clear that lateness had been a problem for her in the past. One time, years ago, she was all dressed and lined up for the runway when, to James Scully's horror, she disappeared. They had to hold up the entire show while they mounted a panicky search; she was eventually found in line at the Starbucks across the street. "I don't know what I was thinking," she said. Scully eventually forgave her, and now they exchange Starbucks gift cards at Christmas. "Still, don't do that," she warned. "I had to earn a lot of people's trust back." 
After the lectures were over, goody bags were dispensed and the girls continued munching on snacks and sipping juice. Some smoked cigarettes and tried on each other's shoes. Lula Osterdahl, a Swedish model who walked in the fall 2012 Prada show and was recently shot for Italian Vogue by Steven Meisel, said the evening had made her feel relieved — in her own accented words, "Like a stone fell out of my stomach." It's her first time at New York Fashion Week, and she admitted she's anxious. "People tell me scary stories about Fashion Week, you know?" Nearby, Cunningham surveyed the scene and grinned. "It's a bit like summer camp orientation, isn't it?" he said. "I mean, they are kids. They're here for three weeks. It's a lot like camp."