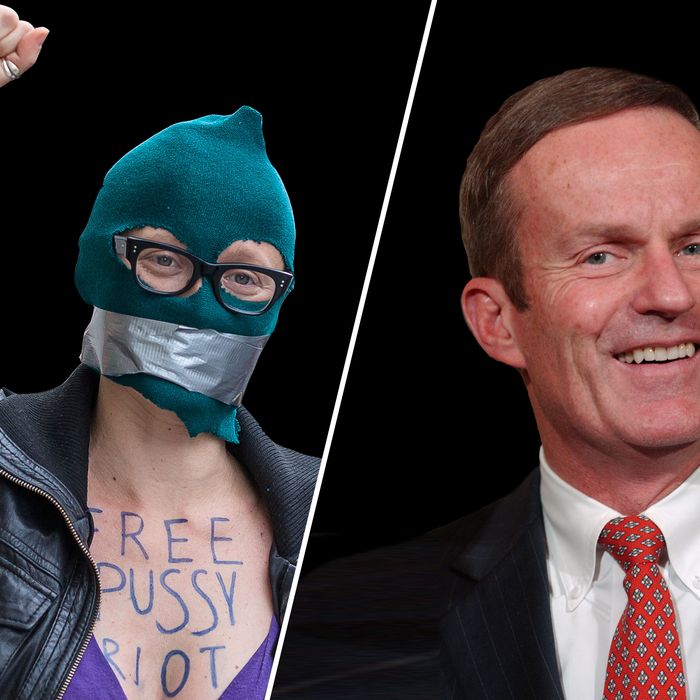 Photo: WOJTEK RADWANSKI/AFP/GettyImages, Congressional Quarterly/Getty Images
Sometimes I'm surprised that Pussy Riot is cool. Even young Americans who voted for Obama and supported Occupy Wall Street tend to turn up our noses at the aesthetics of domestic protest culture: ski masks, body paint, white dreads, Bono. Yet even those of us with a general distaste for guerrilla theater found ourselves fist-pumping mere moments after reading about the three Russian activists who were jailed for staging a feminist performance art piece on the steps of a church. They reminded us of feathered-hair seventies feminists holding a sit-in at women's mags or nineties riot grrrls pulling out their tampons onstage — color-saturated images we now reblog and pin — a modern-day nod to previous decades when unfettered political passion didn't seem misplaced or exaggerated. Nothing like a truly misogynistic, murderous dictatorship to make theatrical protest throwback-punk cool.
I'm not pining for the days when abortion was illegal and a woman couldn't even get a credit card in her own name. But there's something attractive about the straightforward feminist battles of the past and those playing out in other parts of the world today, like thousands of women marching on the streets of Cairo. Despite America's predictable political breakdown into left/right, Democrat/Republican, everyone wants to believe they're the true center, or at the very least cater to the people who are. So as soon as there's a glimmer of proof that the Republican agenda would mark an intentional return to the gender and racial stratification of the fifties, I get quite excited. For once, a real conversation about real, opposing beliefs!

This week, of course, I'm talking about Rep. Todd Akin. Bless you, Todd Akin. I admit that I was thrilled to read that he had created his own definition of "legitimate rape," apparently based on a combination of imaginary biology and childlike wishful thinking, in which unwanted sexual encounters cannot result in pregnancy.

It was so satisfying to read his quotes. Infuriating, sure. But he was clear. Loud and clear. I mean, lots of powerful politicians believe shit that is just as crazy as his comments — stuff like, women don't need contraception, they can just tuck an aspirin between their knees! Rape victims in the military deserve fewer rights, and state-level politicians can compel women to get an ultrasound. An outright abortion ban, even in cases of rape and incest, is a solid plank in the GOP's 2012 platform. But they usually shy away from saying these things bluntly, from filling the straight-up villain role, because we've got endless rounds of cable news breakdowns and Twitter shaming and viral parodies to keep them in check. Right on schedule, Akin offered a half-hearted "I misspoke" — an explanation so pathetic you could practically hear every eyeball in America rolling back in its socket. He has since released an apologetic ad (which, naturally, mentions that he is "the father of two daughters," the de rigueur canned response to any charge of misogyny) that ends, "The mistake I made was in the words I said, not in the heart I hold. I ask for your forgiveness." Of course, his beliefs haven't changed, just his talking points. If not this clown, I wonder, then which conservative male politician will step up and own his ignorance?

"I think that the Republican reaction is all about self-preservation," Democratic Rep. Jackie Speier told Raw Story. "I believe many of them are of the same mind as Mr. Akin. They believe there are virtually no circumstances under which an abortion is appropriate." Indeed, Mitt Romney's campaign has taken pains to note that, while the presidential candidate is totally fine with letting your average woman suffer through an unwanted pregnancy, he would very charitably allow rape victims to access abortion services. (Who knows how he squares this with the GOP platform, which does not include a rape exception.) This clarification was necessary because Romney's running mate Paul Ryan believes women should not even be able to terminate pregnancies that are the result of rape. Last year Ryan co-sponosored a bill — along with Akin and other Republicans — to narrow the definition of rape in order to limit abortion access. You can bet that the Obama campaign will be giving this detail a lot of play in its mailers to women voters. (Possible subject lines: "Hey vagina-owner." "OMG girl, u seen this?" "About that rape … ")

But the truth is that even the Akins and Ryans of the world tend to ensure their attempts to legislate women's abilities to control their own bodies are only talked about in terms like pro-family or pro-baby or pro-safety — or they push for piecemeal legislative insults like denying abortion coverage to military women or morning-after-pill access or insurance coverage for contraception.

American women have made enough social and political gains that assholes like these with national political aspirations have to walk back their most offensive statements or face marginalization. (At the state level, it's a different story. I'm looking at you: Louisiana, North Dakota, Virginia.) Even apolitical women know someone who's been raped, and they know it wasn't her fault. Even apolitical women like sex, and they know they need contraception to do it without ending up with a brood of babies. Even apolitical women shudder at the word "transvaginal." They may not be on the NARAL mailing list, they might not notice funding cuts for women's health services, but when they see headlines about quotes like Akin's, they take notice. And wince.

Pussy Riot feels ripped from an era when there was not a broader political consensus that women are people. Pussy Riot's oppressors are legitimate patriarchs and murderers operating with impunity in a deeply misogynistic society — even in the seventies, American feminist battles didn't have such a clear villain. American politicians who seek to oppress women are a moving target. Akin has to feign remorse for his comment because it's as extreme as his actual beliefs. It's too real. If he didn't walk it back, most of the country's power structure would instantly distance themselves from him — even though the legislative record shows all too many politicians agree with him. They know that the role of clear-cut villain must be reserved for radio shock jocks and nefarious behind-the-scenes funders. The public face of oppressive policies has to be kinder, gentler, harder to put on a balaclava and scream about.