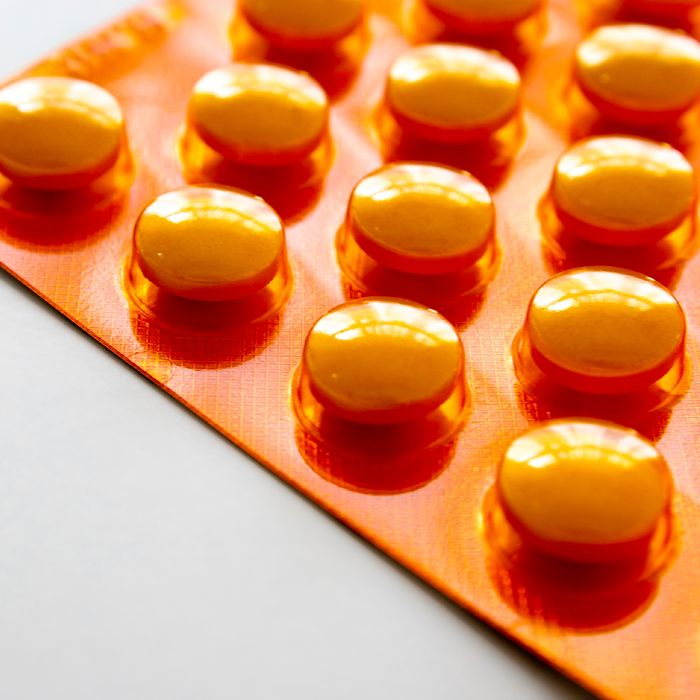 As the newest member of The Cut, I was busy doing HR paperwork when the women's health mandate of Obamacare went into effect last Wednesday — an event one Pennsylvania representative likened to the bombing of Pearl Harbor and September 11.
It also happened to be the day my New York Media health insurance kicked in, tying me for the honor of first woman eligible for free birth control under the Affordable Care Act.
This qualifies me for much more than free birth control. ACA's preventative health-care provision for women says insurance plans bought or renewed on or after August 1, 2012, must fully cover women's health services like HPV screenings and domestic violence counseling. But the birth control thing was pressing, and The Cut loves a bargain.
So, at the risk of office over-sharing in my first week, I called Aetna's customer-service hotline to exercise my historic right.
"My name is Kat Stoeffel," I told the operator, whom I later discovered to be automated, "and I'm calling about my free birth control."
The first human I spoke to — a male — was vaguely aware of the situation.
"They told us you guys would be calling about this," he said, before putting me on hold. A recording advised me to call 911 in the case of a medical emergency. About fifteen minutes later, I was connected to a woman in the claims department.
"Okay, you're good," she said, reviewing my file. She said she didn't know much about how the changes would affect me but that she had just received a memo about it. It took her a few minutes to find the memo on her computer, and then, she explained, to resize it to a legible font. I sat on the line while she clicked around, reading aloud to herself and making thoughtful noises.
"We are not required to cover all contraceptive at no member cost," she whispered. "Hmmm."
She explained (and America's Health Insurance Plans later confirmed) that insurers can still charge a co-pay for branded drugs when generics are available. Two popular options not fully covered by my insurer, even under the ACA, are the patch (Ortho Evra) and the ring (NuvaRing), the patents of which don't expire until June 2015 and April 2018, respectively.
Once I learned that my branded drug of choice, NuvaRing, wouldn't be covered, I asked my insurance representative a hypothetical question: If I could get my doctor to write me a generic prescription that day, then would it be free? She agreed to test-drive my plan, running claims on a couple of generic contraceptives she knew off the top of her head. They still showed a big bill headed in my direction.
"It's not adjudicating properly," she said.
She advised me to pay for birth control out of pocket and then pursue a refund from the claims department.
At Duane Reade the next afternoon, I was reminded that a new health plan, historic or not, means a new deductible, so I wound up paying quite a bit for my free birth control. Along with a box of tampons and a bag of Pirate's Booty, it came out to $94.83.
As a citizen of the new, sex-positive world order, that felt steep. But it's nothing compared to the upfront cost of the long-term, reversible birth control options touted by women's health specialists, like the IUD or the arm implant. Prior to the ACA, they cost up to $1,000. (Both will be fully covered by Aetna.)
Later that day, I spoke with Nancy Stanwood, M.D., M.P.H., a family-planning physician and Yale School of Medicine professor who sits on the board of Physicians for Reproductive Choice and Health. She said that she expects to see the percentage of women using IUDs rise as expanded coverage rolls out.
"If women have to pay out of pocket, they're much less likely to pursue the more effective but expensive option," Dr. Stanwood said.
But to her, the amendment mostly means that insurance companies will meet the needs of their female customers, as they long have their male customers. The fight to get contraceptives covered by insurers only gained traction in the nineties, she explained, when insurance companies raced to cover a revolutionary new pill called Viagra. Accusing insurers of hypocrisy, state legislators were able to get so-called contraceptive equity laws passed in 28 states. President Obama's federal action means insurers in all states must provide complete coverage of all contraception.
"Women are working hard," Dr. Stanwood said. "They pay their insurance premiums, and now the insurance companies have got to cover the preventative care they need and deserve."
Or at least refund us for it.