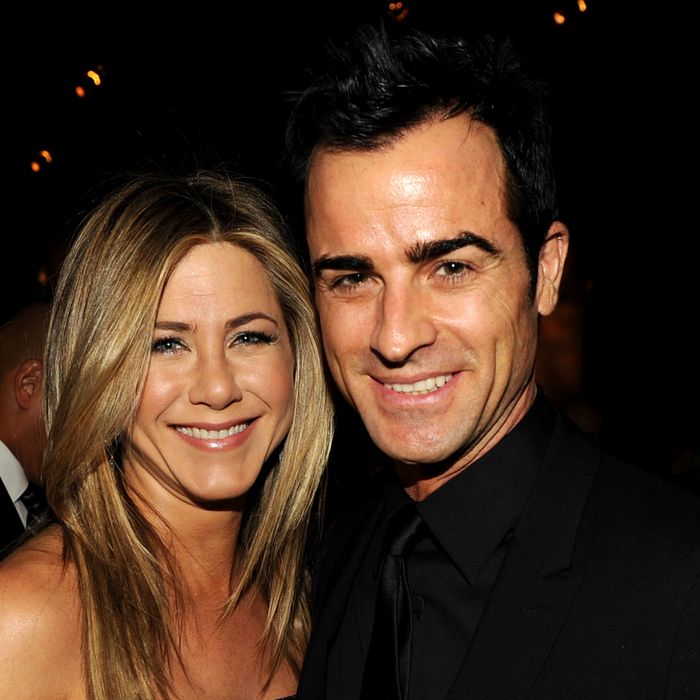 Photo: Kevin Winter/Getty Images
With the news of Jennifer Aniston's engagement to longtime boyfriend Justin Theroux comes the abrupt conclusion of a perennial tabloid narrative: Aniston as a sad, barren spinster.
And while some outlets have been quick to replace it with the race-to-the-altar saga — ex-husband Brad Pitt and homewrecker Angelina Jolie are recently affianced as well — we're more interested in this unlikely union of a rom-com sweetheart and a fedora-wearing artiste.
While Aniston was starring in Picture Perfect, for example, Theroux was doing Chekhov at the Roundabout with Lili Taylor and Paul Giamatti. The David Lynch favorite isn't in star-studded summer blockbusters, he writes them. He has screenwriting credits on Tropic Thunder, Rock of Ages, Iron Man 2, and, according to IMDb, a forthcoming Zoolander sequel. He studied painting at Bennington.
But Theroux comes by any pretension honestly. His family tree is lousy with writer-types. His uncle is Paul Theroux, the novelist, travel writer, and New Yorker contributor. Paul's sons — Justin's cousins — are the British documentarian Louis Theroux and novelist Marcel Theroux. Uncles Peter and Alexander are a translator and a poet, respectively. His father, corporate lawyer Eugene Theroux, evidently didn't get the literary bug, but Justin's mother, Phyllis Theroux, is an essayist with bylines in the New York Times and Washington Post, including this one about the time young Justin took two girls to the eighth-grade dance.
As for Aniston, well, she starred in Marley & Me, which is based on a book, and she's adopted the all-black uniform admirably.