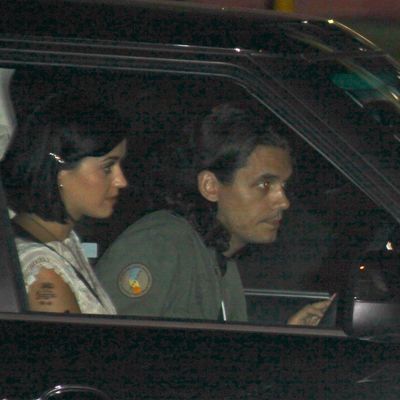 She's wearing a barrette, no less.
Photo: Josephine Santos/PacificCoastNews.com
Terrible news: Last night, Katy Perry and John Mayer were photographed in a car leaving the Chateau Marmont together. AND WE ALL KNOW WHAT FAMOUS PEOPLE GET UP TO IN CARS, DO WE NOT? This can only mean one thing — Katy and Baptiste's dubious-at-best relationship must have gone south. For all of us who harbored not-so-secret hopes of Katy starring in Baptiste's next music video, or even dared to dream of an introduction between Katy and Choupette, this is a terrible tragedy. Also, Katy's hair looks strangely normal here, all straight and brown without a purple streak in sight. This is a dark day indeed.