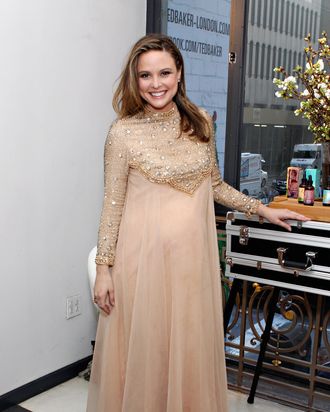 Pregnant Josie Maran.
Photo: Cindy Ord/Getty Images
Not only did model turned skin-care-line owner Josie Maran give birth to her second child, Indi, in a baby pool in the backyard of her farmhouse in Pennsylvania, she then blogged about it for People afterward. There are pictures, too, in case you're having trouble visualizing the logistics (they're not graphic, and actually quite touching). Some standout details: Maran's older daughter, Rumi, ran around serving everyone cookies during the birth, and her husband, Ali, sat in the pool with her.
Maran writes:
While my daughters' births were very different — Rumi was born in 14 hours under a jasmine vine, while Indi was born in four hours under a honeysuckle bush — each was a truly magical experience. I brought my girls out of my body and into nature, and I hope this early experience inspires them to remember their ties to the earth. 
It's noteworthy that Maran emphasizes outdoor water birth being the perfect choice for her, not women in general. Anyway, the en plein air situation certainly sounds nicer than a bathtub, no? And as for that baby pool (a term that now has a whole new meaning!): One wonders if it's been retired now, or if it was just deflated and unceremoniously stuffed back in the garage afterward.