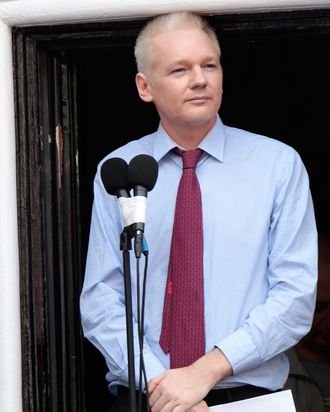 Photo: Rosie Hallam/Getty Images
On Sunday, Julian Assange made his first public appearance since taking refuge in the Ecuadorian embassy in London two months ago. The Wikileaks founder, currently wanted for rape charges, was sporting a new crew cut and a fresh-scrubbed face. How did Assange keep up that healthy glow while living under house arrest?
By running on a treadmill and sitting under a sun lamp, according to news reports. 
The base tan and beach body will serve him well in his future home in Ecuador, provided he ever gets there. Ecuador President Rafael Correa granted Assange political asylum, but the British government has said that as soon as he leaves the embassy, Assange will be arrested and extradited to Sweden. Assange believes Sweden will further extradite him to the United States, where he could face espionage charges.