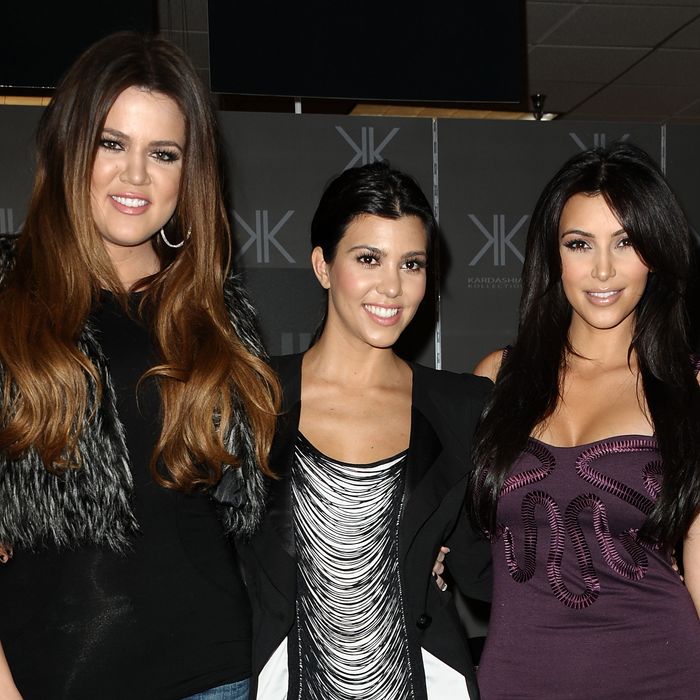 The Kardashians.
Photo: Jason LaVeris/FilmMagic
The fashion world may not know quite what to do with Kim Kardashian, but the retail world has no doubt: Just slap her name on boutiques, fragrances, and eyeglasses, and let the masses come running. The same goes for her sisters Khloé and Kourtney, who worked with Kim to launch the Kardashian Kollection at Sears almost exactly a year ago. Now the Kollection, which includes clothing, lingerie, shoes, bags, and other accessories, will blossom into a massive international venture spanning thirteen countries, including the U.K., Turkey, Kuwait, Singapore, Thailand, and more, WWD reports today.
So, who's behind this big expansion, you might ask — besides the usual Kardashian machine, of course? Why, just Sir Philip Green, owner of the colossal fast-fashion chain Topshop as well as the larger retail giant Arcadia Group. No stranger to partnering with celebrities (he's the one who convinced Kate Moss to do her Topshop line), he has brokered a deal with the Kardashians' licensee, Jupi Corp., to shill the Kollection at 250 Dorothy Perkins stores around the globe. The products will remain in its $100-and-under price range and will begin their first wave of expansion in the fall. If all goes according to plan, they'll expand into China, Brazil, and Russia in 2013. In other words, get ready for more Kim-in-a-burqa photo ops.
Related: 
The Kardashian Kollection Will Launch at Sears in August
What Will the Fashion World Do With Kim Kardashian?