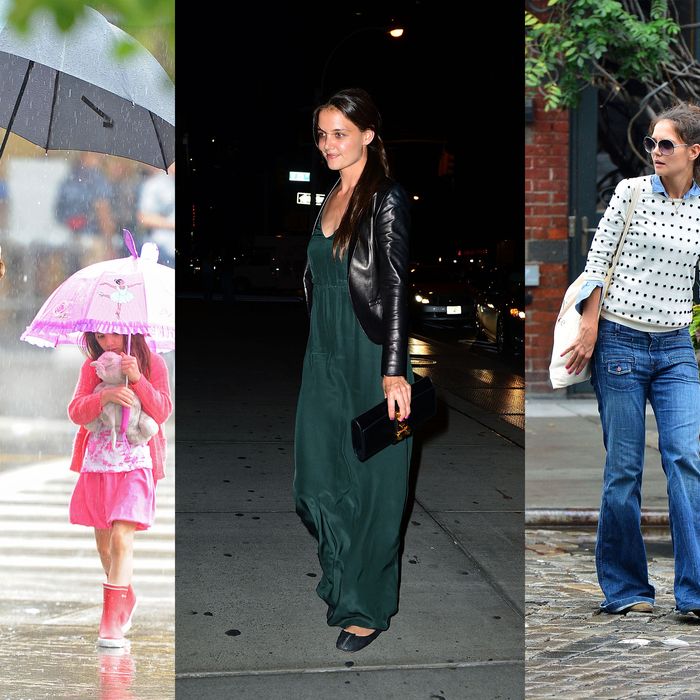 Katie Holmes, out and about rain or shine.
Photo: Josiah Kamau/BuzzFoto/FilmMagic, James Devaney/WireImage, James Devaney/WireImage
Judging by the frequency that Katie Holmes has been photographed lately in the meatpacking district, the neighborhood where Holmes & Yang's office is located, she's been putting her fair share of legwork into the forthcoming collection. (Or else she's just been taking Suri to Pastis a lot … mmm, moules frites.) Anyway, Holmes's presentation now has an official time slot: Saturday, September 8 at 9 p.m., according to WWD. The location hasn't been disclosed yet — perhaps they haven't decided on one, or maybe they're trying to be one of those labels that thinks keeping their venue under wraps makes them appear more exclusive instead of just making everyone's fashion week logistics that much more of a pain.
In related news, WWD notes that Katie and Suri have been going into J. Crew a lot lately. Reps from the retailer say they aren't working with her on any projects, so presumably she's just admiring their tissue tees. And finally, counter to previous reports about Suri enrolling at Sacred Heart this fall, Life & Style says that she'll start first grade at a brand-new private school called Avenues, which is also conveniently located near the Holmes & Yang offices (and Pastis, obviously).