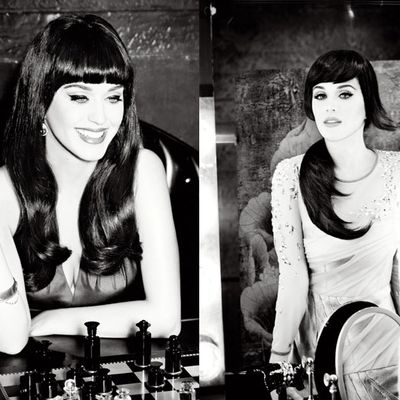 Katy Perry's ghd campaign.
Photo: Ellen von Unwerth/ghd
Let's be clear: It's commonly known that many female celebrities supplement, shall we say, their natural hair. Plenty of them admit to it, while others just let the obvious speak for itself. After all, if you're going to be on-camera and have lots of top-notch stylists at your beck and call, wouldn't you rather have a head of shiny, thick, quasi-unnatural hair than whatever limited options you were born with? Exactly! Some economically minded celebrities, like Sherri Shepherd and Jessica Simpson, have even parlayed their fondness for fake hair into profitable hairpiece collections of their own.
This brings us to Katy Perry, whose shameless use of hairpieces is one of the many things that make her fun to look at. Today, hair-tool brand ghd announced that she's their face for fall 2012. Her fake hair does look nice and glossy in the campaign, which was shot by Ellen Von Unwerth and appears on the brand's website along with detailed instructions on which tools were used to create Katie's "look." Anyway, not to overthink this, because goodness knows nothing in ads is actually real, but isn't the whole point of wigs that you don't need to blow-dry them? (Should you need a refresher on what her real hair looks like — and it's pretty! — see here.)