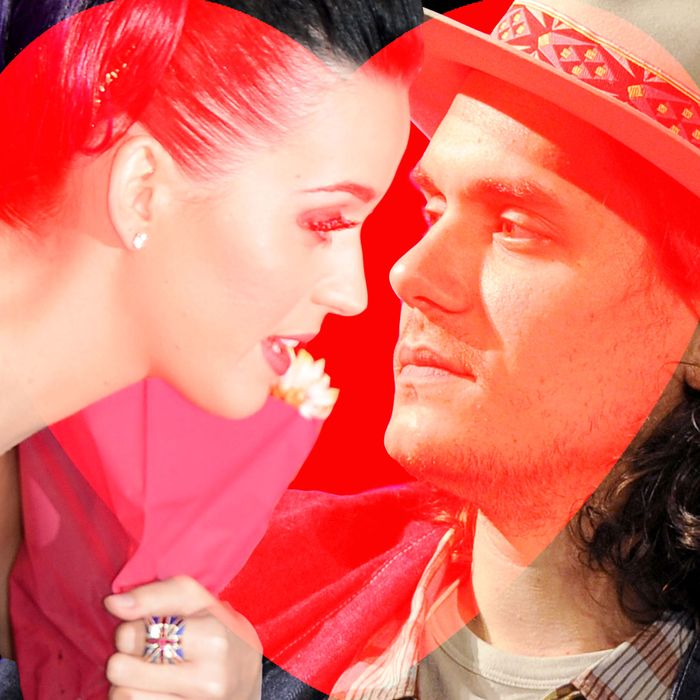 Photo: Ian Gavan/Getty Images, Mark Sullivan/WireImage
After having her heart crushed in a failed marriage to recovering sex addict Russell Brand, Katy had every reason to want her next relationship to be with a sweet, caring man. Instead, her new beau is a playboy who's left a string of broken hearts across Hollywood. —Life & Style, "Katy's Headed for Heartbreak Again," Aug. 20, 2012
After having her heart crushed in a failed marriage to recovering sex addict Russell Brand, Katy had every reason to want her next relationship to be with a sweet, caring man. Instead, her new beau is a playboy who's left a string of broken hearts across Hollywood. —Life & Style, "Katy's Headed for Heartbreak Again," Aug. 20, 2012

Men like John Mayer were the cross she bore, Katy knew that by now.  Though she told him it was over, when John took her hand and touched her cheek and gazed at her with his soul in his eyes, she was lost once more. She swore to John that she really would end it, and soon, if he didn't mend his ways. After the pain her mercurial ex, Russell, had put her through, she could not stand another heartbreak.
But John was everything she could not resist in a man: tall and passionate with high cheekbones, wild dark hair, and a dedicated fan base. His eyes were bold and full of secrets. He was a rogue, crackling with sexual energy. Katy Perry had been cursed by a terrible affliction: to desire dangerous men.
Katy did not understand why, of all things, she should be unlucky in love. She was a bard of love, given voice to sing of it, to spread word of its soaring joy and crushing discontent. The poetry of her heart had been sung by millions, gone quadruple platinum in the case of "I Kissed a Girl." 
Yet, she had known such heartbreak. She had watched her marriage to Russell shatter after fourteen months, practically a lifetime, a whole 5.9 Kim Kardashians. She fell into a blue period afterward. Blue mood, blue hair, blue shoes. In love, she was surely damned, because on their second date, John betrayed her. As camera-wielding men swarmed their intimate dinner at the Chateau Marmont like so many tsetse flies, she realized he had tipped off the paparazzi.
Her eyes stinging with reproachful tears, Katy had protested. John reached for her hand. Forgive me, his gaze implored. "Sorry," he said. "It's just that I want the world to see us, you know? We look good together."

She knew. She knew, damn him. She knew there was something between them, something that could be real, something she could not give up. Flashbulbs popped and watched his stubborn bow of a mouth as he pleaded with her.

He begged for a chance to make it up to her, and Katy heard herself whisper, "Yes." She knew she should resist, but as John's thumb stroked circles into the tender her palm of her hand, her heart began to race. She pictured the next day's headlines: "Katy Perry Canoodles John Mayer." She quivered.

John led her to the elevator. His touch was electric. He ran his guitar-strong hands down her back and leaned in, praising her face, her voice, her breasts. She wasn't sure what "napalm" meant, but the way he murmured it sent a shiver down her spine. She knew then that she was his, irrevocably. As John pressed her into the oak paneling of the elevator, she desperately tried remind herself that it was too soon to love again.

Alone at last in John's hotel room, they tore at one another's clothes. Still, John was making excuses, but no longer was it a nuisance. It was foreplay. "I guess I'm a bad boy," John said, burying his face in Katy's breasts. "I guess I'm a bad boy, sure. B-b-b-b-b-b-b." She had never been motorboated before.

She couldn't tell him how much it turned her on — how it lit a holy fire in her to hear him confess his sins. "Recognition's half the battle," she gasped. "I know you can change. Redeemed by a good woman, that's what they'll say. We'll be unstoppable!" Their collaborative Christmas album would never be forgotten.

"Dude," he replied. "You're so chill."
"Ravish me," she whispered. "Take me in your arms and ravish me, let us mark the passage of your life from the dark days into the light."
"Whatever you want, baby," he said generously. "Is this some kind of minister's daughter thing?"
He was a masterful lover, strong and self-assured. He seemed to know her body already, anticipating where to touch her, as though he'd already been with hundreds — seriously, hundreds — of women. He strummed her with the grace of a master guitar player. He made her cry out with pleasure, and at first, she thought she was making him cry out, too, but then she realized it was a recording. Beside the bed, he had propped an iPad. It was playing "Your Body Is a Wonderland."

"I mean, everyone else does it to my music," John shrugged. "Why shouldn't we?"

It was everything he sang about and more, and when Katy lay at last in his arms, sweat-drenched and satisfied, she knew she was where she was meant to be. She would bear this cross, save this man. Even though she had tried to hide, love had found her again after all. She fell asleep humming that lovely song, about the lady with the Wonderland amusement park in her crotch.
Amelia Casey is a romance novelist. Her most recent book, Taken by the Highwayman, makes Lady Anabel Mayward's pulse race.