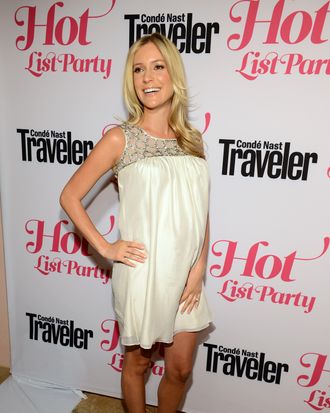 Kristin Cavallari.
Photo: Michael Kovac/WireImage
According to a press release we received last night, new mom Kristin Cavallari has signed on to do a capsule collection with Chinese Laundry. Before you scoff, take a moment to remember what a moment these ankle-strap peep-toe heels had in the late nineties — they were practically part of the bar mitzvah after-party dress code (provided your mom let you buy them, which my mom did not, since they "made girls look like hussies"; obviously, I'm still not over it). 
The press release states:
Chinese Laundry by Kristin Cavallari was specifically designed for fashion-forward young women with an on-the-go lifestyle.  The collection from the brand's current web ambassador will include an assortment of classic pumps, studded flats, bold booties and fun platforms in various prints and patterns — be sure to keep an eye out for Kristin's "new nude." The line will hit stores in December 2012 and the shoes will retail from $69.95 to $149.95.
"New nudes"! Heavens. Keep an eye out, we shall.