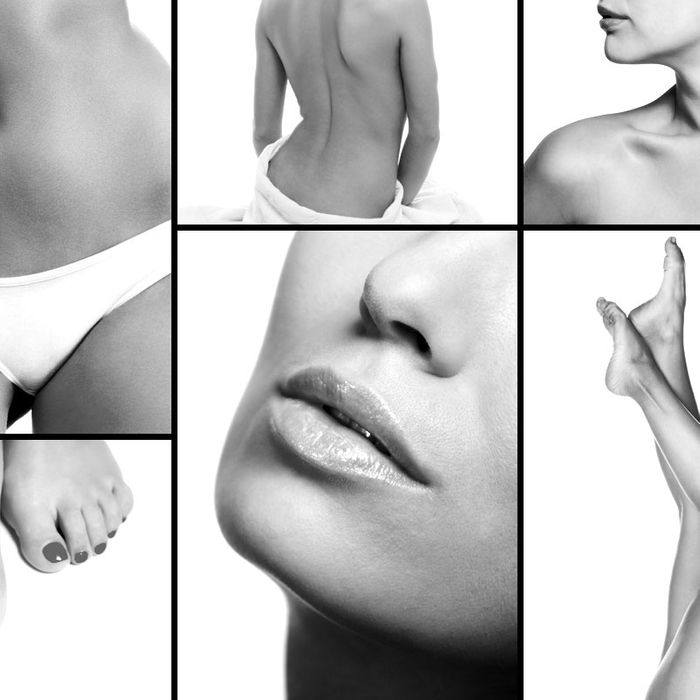 Over the course of one week in August, I paid a total of $244 for the following beauty procedures: mink eyelash extensions, a gel manicure, a bikini wax, two facials, and a two-week course of a scientifically questionable diet supplement. I am on the wait list for an infrared cellulite-removal session.
I did this using Lifebooker, the five-year-old site where salons can sell excess inventory (the appointment hours that aestheticians sit around with no one to wax) at a discount. Users can book cheap, last-minute appointments, and Lifebooker collects a bounty on each bald crotch, retouched root, and trimmed bang.
Posting makeup-free self-portraits to Instagram may be the celebrity PR move du jour, but Lifebooker promises the reverse: Hundreds of thousands of mere mortals use it to dabble in high-tech, photo-shoot-friendly beauty treatments. As a rookie to physical perfection, I joined them. With cutting edge technology and discount economics, could I achieve the fembot look of an Us Weekly fixture?
Twice a day, Lifebooker e-mailed suggestions written in the tone of a passive-aggressive sorority sister:
"Is your great-grandfather Chewbacca or something?" began an offer for laser hair removal.
"Pores are so 2011," read a coupon for microdermabrasion.
Each e-mail provided a list of things that are potentially wrong with me, stock photos of women who do not share my defect, and a limited-time click-to-buy offer to fill the gap between us.
"We think of beauty as maintenance," Lifebooker founder Dana Reichman told me when I visited the company's dog-friendly Dumbo office. She describes beauty procedures as "both essential and ridiculous."
For my first foray into discounted self-improvement, Reichman and co-founder Andrew Unger recommended eyelash extensions — their customers find them "addictive" — so I booked a Saturday afternoon appointment at a nondescript salon in Koreatown. The place was empty except for a procession of young women clutching printed-out Lifebooker coupons ($49, normally $165). They filed into a pair of back rooms and emerged, an hour later, blinking Katy Perry clones.
The last thing I did as an aesthetician taped my eyes shut was request the most natural-looking lash option available. When I woke up an hour later, I, too, was Katy Perry. At a party that night, friends deemed the prosthetics "distracting." I already can't imagine what I would look like without them.
My next purchase was an intense pulsed light (IPL) facial. Marked down to $59 from $150, it was performed in an office with a painting of a Chinese woman in a Cultural Revolution–era jumpsuit on the wall.
After strapping a mask over my eyes, the facialist used a spatula to spread a cold gel across my face, which she proceeded to rub with a medical-looking wand. I thought she was conducting an ultrasound exam on my unborn zits until she said, "Let me know if this hurts," and began to zap my acne scars with a burst of heat and a blinding flash.
Lifebooker users can filter local salon listings by available appointment time, treatment prices, salon locations, and user rating — a revelation for the impulsive look-changer or the seasonal bikini-waxer. But it can also make a girl a little weary — all the onetime encounters in identically dingy salons across town, having to explain how you like it done to a new stranger each time.
I thought a last-minute, pre-vacation wax arranged through Lifebooker was going well until I winced and the motherly Russian waxer responded, with sympathy, "You should do it the same person every time. It's better that way."
Like much of its small salon clientele, Lifebooker is a family business. Reichman's father, Arnold, a former partner at Credit Suisse–owned private equity firm Warburg Pincus, began as Lifebooker's adviser and is now CEO. Her mother, Sharon, is known to deliver snacks to the office. She and Unger met as first-graders at Brooklyn's Saint Ann's School. They act like brother and sister.
Reichman and Unger describe the Lifebooker voice as "relatable," "sarcastic," "urbane," and "down-to-earth," born from late nights writing copy when they were the company's only employees. (They now have a staff of about 65.)
"You're removing hair from your crotch," Reichman said. "How are you going to talk about that?"
Lifebooker e-mails may induce feelings of amused horror, but Ilana Glazer and Abbi Jacobson — the tomboy comediennes behind the web series Broad City, now in development with FX — assured me that team Lifebooker is in on the joke. They used to work in the sales department while moonlighting as writers.
"I sold this noninvasive liposuction," Glazer recalled. "It, like, squeezes and fucking melts your fat and you — no joke — urinate it out."
The procedure, called Zerona Non-Invasive fat removal, regularly costs $1,500. Lifebooker's price? $599.
"It's almost religious, like cleansing," Ms. Glazer said. "Very indicative of the time right now."
Indeed, the coupon and two-for-one deal format — along with the unflappable Lifebooker voice — has a sort of leveling effect, leaving the impressionable subscriber with the sense that Botox units and Keratin straightening are costs of ownership as routine as the SPF moisturizers and disposable razors advertised in a Duane Reade circular.
Recently, Lifebooker advertised a discount on labiaplasty. (Regularly $6,250, now $2,950, lab fees and surgical garments not included.) I grimaced as I clicked the link. Could Lifebooker make cosmetic genital surgery seem like no big deal?
"Whether it was the little humans you created (you're amazing!) or all that horseback riding you did in your youth, sometimes you just wanna give your lady business a makeover."
Asked about Lifebooker's more drastic beauty solutions, Unger said that, as medical technology improves and costs drop, our standards for routine maintenance might change. It wasn't long ago, he said, that laser hair removal could only be performed by physicians, who charged thousands of dollars. Now that any beautician can stash a laser in the backroom, Lifebooker sells sessions for $25.

"It's like flat screen TVs," he said.
Thinking about beauty in terms of supply and demand can get a little depressing. Demand means people feeling ugly, be it because of Lifebooker's tough-love copy writing or NBC's high-definition shots of Misty May-Treanor's underarm. But while the same tension gives many magazines their consumer subtext, at least on Lifebooker it's explicit, and on sale.
As I picked off the last of my false eyelashes last week (their lifespan was shortened by a steam facial), I decided not to schedule a replacement appointment. Instead, and perhaps inspired by Misty May-Treanor's underarm, I explored Lifebooker's fitness class offerings, which Unger and Reichman say will have their own booking site soon.
I'm not hopeful that they'll find the cure for feeling physically inferior in my lifetime. But it's comforting to know that the treatments will come cheap.