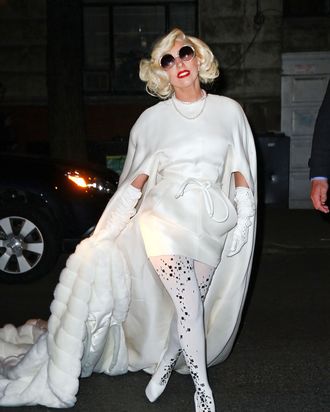 After spotting Lady Gaga out and about in a furry-looking piece last week, PETA fired off a snarky press release criticizing the singer. (The letter's highlight, impassioned rhetoric aside, was a clever pun calling Gaga a "turncoat." Get it?) Gaga's first — and equally snarky — response came via Twitter, requesting that, in future stories, they "please don't forget to credit the [coat's] designer Hermès." Last night, however, she released a lengthier statement, to acknowledge the fur as well as the "python, ostrich, cow hide, leather, lamb, alligator, 'kermit' and not to mention meat" she's worn in the past. Gaga's not going to discriminate against one animal's fur/skin over some others, of course.
To the fans. I want you to know that I care deeply about your feelings and views, and I will always support your philosophies about life. We've been having over-arching conversations about society, equality, and politics for the past five years, and we should continue. I do not however support violent, abusive, and childish campaigns for ANY CAUSE. Particularly one that I respect.
She continued on a slightly more penitent note:
I have truly always stayed away from skinned fur, especially [as] I have never been able to afford a nice one, but this does not mean my morals are rigid and that I won't bend at the sight of an absolute art piece of a coat … You see a carcass, I see a museum pièce de résistance. But I am truly sorry to fans who are upset by this … I respect your views, please respect mine. And to campaigners, Save your flour to make bread for the children who are hungry. And Kim Kardashian is fabulous.
That's a good ol' K-bomb to finish things up — the perfect way to distract readers away from the deliberately muddled message at hand. (Though the name-dropping likely refers back to PETA's release, which labeled Kim as "mindless." It's all a snake eating its own tail, if you will.)