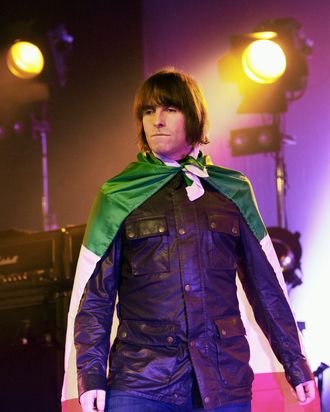 Liam Gallagher.
Photo: Vittorio Zunino Celotto/2011 Getty Images
Liam Gallagher's clothing line, Pretty Green, may have been the subject of some ridicule in the past, but at the end of the day we're so glad he has one because he gives hilarious interviews about it. His latest chat with the Telegraph includes a lengthy tirade against hair plugs followed by an update on his fashion label, which now has eleven stand-alone stores and is apparently expanding to Copenhagen and Tokyo. And to his credit, Gallagher is the first to admit that he has nothing to do with the actual design process. Instead, he just tries on the clothes after they've been made and decides if they're worthy of his label. Here's how his decision process works, via the Telegraph:
If it isn't cool it gets binned … I know people might buy it anyway and not everyone's me, but that's how it is: you've got to look at every detail, otherwise you'll end up selling s—.
His knowledge of fashion comes purely from his own shopping habits, which are apparently quite extravagant:
I spend a lot of money on clothes so I know my s—. In fact, I probably spend more on clothes than 90 per cent of these fashion people because they get it all for nowt.
He has a point — how many fashion people are swayed into liking a certain label just because they get some nice swag in the mail? (Lots.) And don't even get him started on stylists:
I'll never have a stylist. If I like something, I get it and I put it on. Who are these judges? If you like something, you like it, and if someone else doesn't, well it doesn't mean you're wrong, does it? At least you went out and dressed yourself. If someone turned around to me and was like, 'here mate, take that rubbish off that you've worked your b——- off to buy and get this on you …'
We have no idea what that bleeped word might be either, but hopefully it's something unimaginably crass. Oh, and he hopes to do a fragrance! He currently wears "loads" of Chanel Bleu, but he's interested in making his own. "I've got no idea how you go about it, though," he admits. Not that that's stood in his way before.