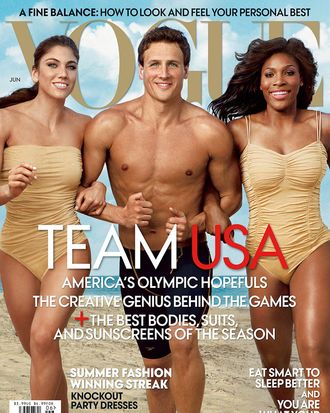 Lochte's newsstand flop.
Photo: Vogue
Although Ryan Lochte captured hearts (ahem) when he appeared in all his shirtless glory on Vogue's June cover with Serena Williams and Hope Solo, his issue delivered the magazine's weakest newsstand numbers so far this year, according to WWD. Of course, many factors go into a magazine's newsstand sales: the cover's layout, styling, photography, headlines, and so forth (in Vogue's case, the regrettable decision to dress Serena and Hope in ruched beige swimsuits should take a good chunk of the blame), but there's no doubt that a magazine's cover star is its biggest selling point. And even though newsstand sales are no longer a reliable barometer for a magazine's financial success (ad sales, of course, are the real bread and butter), they can be a good litmus test for which celebrities readers find compelling these days. In other words, a popularity ranking of sorts! Fun.
According to WWD, here's a rough list from the year so far:
Best Sellers
Vogue: Adele (March)
Elle: Blake Lively (March), Kristen Stewart (June)
Marie Claire: Zooey Deschanel (May)
Glamour: Lauren Conrad (May)
W: Kate Moss (March)
Harper's Bazaar: Kate Moss (June/July)
InStyle: Jennifer Aniston (March), Cameron Diaz (May)
Worst Sellers:
Vogue: Ryan Lochte, Serena Williams, and Hope Solo (June)
Marie Claire: Christina Aguilera (February)
Allure: Kim Kardashian (March) 
Glamour: Kim, Khloé, and Kourtney Kardashian (January)
Many publishers haven't released definitive numbers yet, so some of these covers are simply "among" the best/worst. In other words, we can't write off the Kardashians quite yet.