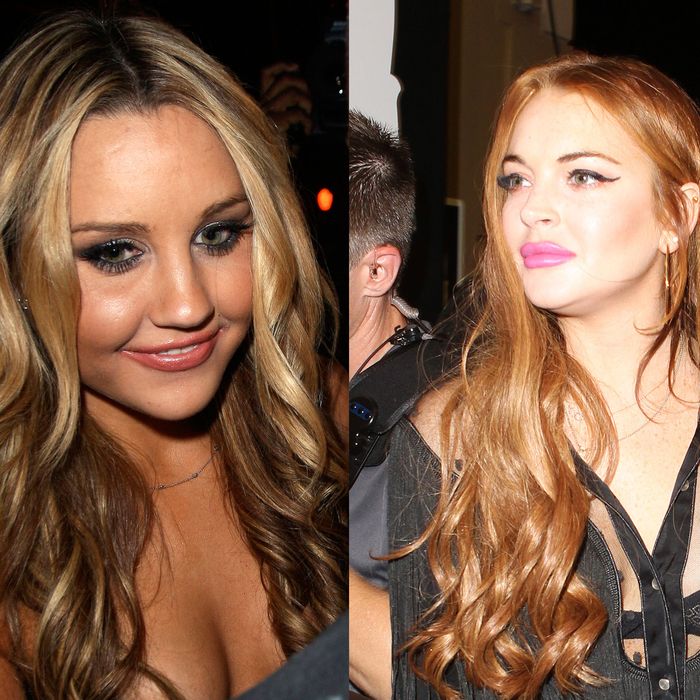 Photo: Brock Miller/Splash News, PWM / London Ent / Splash News
Reading TMZ is starting to feel like watching Groundhog Day. First, Lindsay Lohan is involved in yet another alleged burglary. Jewelry was stolen from a Los Angeles house party Lohan attended, reportedly by people she invited.
Previously, Lohan was believed to have lifted a $2,500 necklace (her assistant turned it over to police), thousands of dollars worth of clothes from the closet of model Lauren Hastings (a judge threw out the case), and Columbia student Masha Markova's $11,000 fur coat from 1Oak (also mysteriously returned).
If that's not confirmation enough that celebrities cannot help but be exactly as we say they are in the tabloids, elsewhere in Sourthern California another child star is revealing her essential self.
TMZ also reports that Amanda Bynes was rear-ended last night. It was just a rental; Bynes's car was in the shop because, in the past six months, she has been involved in three hit-and-runs and charged with one misdemeanor DUI. (After she was charged, she tweeted at the president for help: "Hey @Barack Obama … I don't drink. Please fire the cop who arrested me.")
Bynes also caught some flack for fleeing the scene as a cop ticketed her for driving while talking on her cell phone.
At least by now they know their lines. The Post reports that when the cops questioned Lohan, she asked, "Am I a suspect?"
"When the cops answered no, the actress blew them off and left."