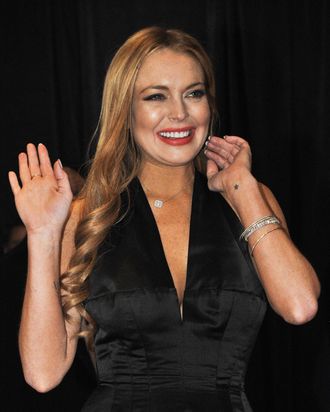 Photo: NICHOLAS KAMM/AFP/Getty Images
Ready to turn her career around again and score a part alongside Kirsten Dunst and Emma Watson in The Bling Ring (the forthcoming Sofia Coppola-directed film based on this story), Lindsay Lohan has cleverly produced her own crowd-sourced audition via tabloid coverage and breathless TMZ headlines. Right? It must be. What other explanation could there possibly be for new reports that her allegedly jewelry-loving sticky fingers are causing problems again?
TMZ reports — yes, breathlessly — that police are treating Lindsay (and her assistant, because troubled starlets' PAs are the modern-day "butler did it" fall-guys in Hollywood whodunnits) as suspects in the theft of $100,000 worth of jewelry. Sam Magid, a friend of Lindsay's, reported the pricy bling missing last week — however he later retracted his accusation after other friends of Lindsay's returned some of the pieces to him. He explained Lindsay told him "she had hidden some of the other items around the house because she was afraid they would be stolen by burglars," which is nice as long as she can remember where she hid things. (Magid also noted in his statement that "Lindsay confessed she was on Ambien at the time," which suggests she can't.)
LAPD detectives plan to pursue the case, with witnesses apparently on deck and ready to label Lindsay a thief. Of course, Lindsay says this is all her audition she's been framed. And TMZ now say she won't be charged after all — you don't mess with the Lohan.