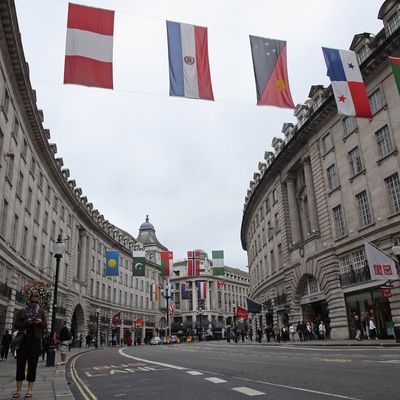 London's Regent Street looking much quieter than usual.
Photo: Dan Kitwood/Getty Images
Thousands of wide-eyed tourists and excited games attendees continue to flood London's Olympic Park, where they're stuck spending $12 on a dry sandwich and much, much more for any of the official merchandise they inevitably feel compelled to buy — even though it all looks terrible — because there's a long line for the gift shop. (They're also spending lots at Westfield Stratford City, a large mall adjacent to the Olympic Park.) The problem is no one's putting much money down anywhere else in the city.
In the run-up to the games, London's transport officials ran an extensive media campaign asking Londoners and commuters not attending events to avoid the Underground and city buses — even to work remotely and avoid the city's center entirely, if possible. And you don't need to ask Brits to stay at home in their pajamas twice, let me tell you. Foot traffic is down — one luxury retailer estimates by as much as 50 percent in high-end areas, with sales figures dropping in accordance across retail, entertainment, and hospitality sectors. It's "a bloodbath about town," says Ed Burstell, managing director at Liberty's department store.
Don't panic: a post-Olympics boost is expected, with retail and trade officials hoping that visitors staying for a few days afterward will see London's sights and shop a lot. A spokesman for the New West End Company notes "a huge amount of Middle Eastern visitors" — traditionally big spenders — are also anticipated in late August. Rather than take chances, though, initiatives to drive shoppers back are already in the works, with social-media promotions and free parking to be offered on the weekends following the games' end. In other words, you might be avoiding wild and nonsensical crowds around Oxford Circus at the moment, but you won't be able to for much longer.