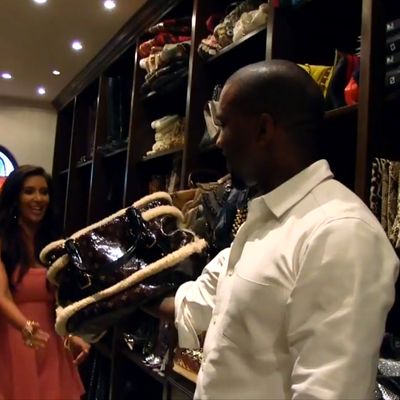 After Kimye's full closet makeover (as seen on last week's episode of Keeping Up With the Kardashians), the reality star put the clothing that Kanye told her to get rid of on eBay, along with a bunch of Kourtney and Scott Disick's stuff — but before we get too judge-y, let's remember this is a charity auction and a portion of Kim's proceeds are going to the Life Change Community Church, which sounds like a life-changing place. Of worship. Anyway, she wrote on her blog, "You'll find some gorgeous dresses by Alexander Wang, shoes by Christian Louboutin, and lots more fab designer pieces." Such as:
• Kim Kardashian Lanvin One-Shoulder Frock Size 36 — A frock? Someone's been on Thesaurus.com!
• Kim Kardashian Jillian Michaels Collection "Have an Awesome Day" Hoodie Size S — Baffling.
• Kim Kardashian Retro Brand Pepsi Racerback Tank Top Size L NWT — Only $5.50 and likely still on sale at Urban Outfitters.
• Kim Kardashian Rachel Zoe "Vanessa" Blue Maxi Skirt Size 6 — Burn.
• Kourtney Kardashian Kadashians Bebe Nude Bandage Dress Size XS — One of the many Bebe options.
• Kourtney Kardashian H&M Green Pocket Shirt Dress Size 4 — For $51? With 22 bids? Surely there is a mathematical formula to explain this.
• Scott Disick Phat Farm Printed Short Sleeve Button Up Shirt Size XL — There's some Sean John, too, FYI.
• Scott Disick Porsche Design BlackBerry Smartphone P'9981 New In Box — Currently the most expensive item, at $1,000.
• Scott Disick EVS Sports Web Hazard Knee Brace Size M Left Leg — If your right leg hurts, you're fucked.
Happy bidding!