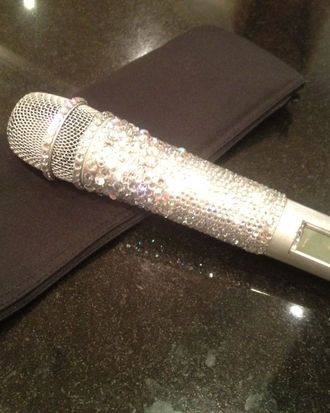 A relic from the Spice Girls'$2 2007 reunion tour.
Photo: Victoria Beckham/Twitter
A bedazzled microphone. She posted a picture of it on Twitter yesterday mere minutes after writing, "Morning fitting with @gilesgilesgiles, cuddle with @kegrand bunny!! X vb," which everyone took to mean that Giles Deacon is dressing the Spice Girls for their closing ceremony performance. But I'd really like to use this post as a thread to discuss how I should have won The Cut's Olympic Nail Art Throwdown. I'll start: My handiwork was certainly better than Sally's.