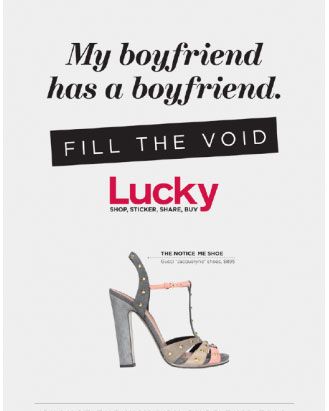 One of Lucky's new ads. In other news, that shoe is cute, no?
Photo: Lucky
Lucky magazine's forthcoming shopping site, myLuckymag.com, allows customers to shop a selection of goods "curated" by editors from a variety of different retailers (Sephora, Macy's) all in one place. To tout the August 17  launch, the brand has rolled out an extensive ad campaign, its first in 12 years. Already popping up around New York City and soon to invade magazines, websites, and other mediums, the tongue-in-cheek ads all have a common theme: evade all the first-world problems in your life, like your juice-cleanse-induced starvation and lack of Twitter followers, by buying things! Here are some examples of the copy, which was ginned up by ad agency Partners & Spade.
My boyfriend dumped me via text. FILL THE VOID.
My longest relationship is with my doorman. FILL THE VOID.

My boyfriend dumped me via text. FILL THE VOID.

My intern is the only one following me on Twitter. FILL THE VOID.

My 5-day cleanse is only on day 2. FILL THE VOID.
Clever, right? Except, as anyone who has ever shopped because of stress/hunger/overall ennui knows, you wind up returning half that stuff you bought because you buck up and realize you didn't really want it. Alternatively, by the time you realize that what you desperately need is therapy, not shoes, you'll have yet another problem to contend with: debt. But this campaign is obviously meant to be lighthearted and funny, so let's leave it at that — unless, of course, you really are on day 2 of your 5-day juice cleanse, in which case nothing is funny at all.