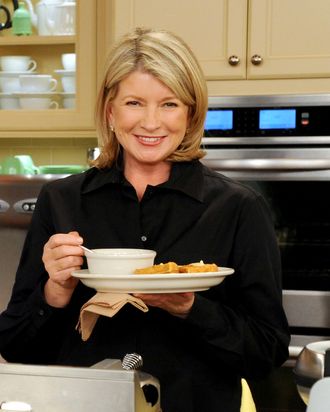 Martha Stewart.
Photo: Rob Tannenbaum/The Martha Stewart Show
It all started last December, when J.C. Penney's brand-new CEO, Ron Johnson, announced that Martha Stewart would be designing home goods for the department store. This was meant to be big, promising news for the brand, which was very much in need of reinvention. But, unfortunately for all parties involved, Martha Stewart already had an exclusive contract with Macy's, where she's been selling her branded home goods for the past five years. Macy's swiftly filed for a preliminary injunction against J.C. Penney selling any of Martha's products and sued Martha for breach of contract. The injunction was granted by a judge in July, and you'd think that Martha and J.C. Penney would part ways after that … but then they didn't:
On its earnings call [on July 30], Martha Stewart Living Omnimedia said "nothing has changed" since it lost a preliminary injunction to Macy's earlier this month, and that it still plans to launch its products in-store and online with J.C. Penney in the first quarter of 2013.
Awkward, no? Last week, J.C. Penney followed up by appealing the judge's preliminary injunction decision, which was apparently the last straw: Macy's announced today that they're suing J.C. Penney for failing to observe Martha's contractual obligations to them. While it's understandable that Macy's top priority is preventing J.C. Penney from competing with them on Martha products, how can this possibly end well? It's like slapping a girl at the bar for making out with your boyfriend when he's the one who hit on her and then trying to reason with him when he pretends not to know you. Meanwhile, it still seems odd that the two department stores are fighting so hard over a brand that hasn't even sold particularly well in recent years.