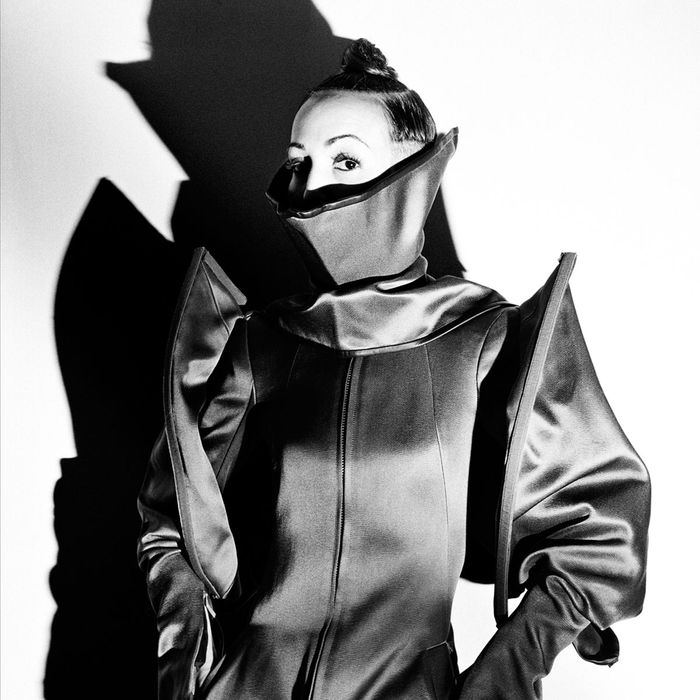 When Michelle Harper was a young child, she crafted elaborate invitations for her own birthday party that included a mandatory dress code for both men and women. Her "what to wear" list included red pumps. "I also had a section that said, 'If you wear the following, you will not be admitted,'" she laughs, aghast. "My mom was like, Oh, Jesus. But even then, I was living a fantasy of fashion!"
Today, Harper is best known for her fantastical dressing habits, which have been well-documented at fashion events around the globe for the past five or so years. Her outlandish outfits have made her a muse of the street style boom, a member of that new class of stars who dress specifically for the photographers outside the tents. Nicola Formichetti recently included her in a video series titled "The New Muse," and this year Vanity Fair added her to their Best Dressed List.
On the rainy July day when we meet, Harper is somehow umbrella-less, darting inside the Mercer Hotel in towering heels and a tiny black skirt, the non-shaved portion of her black hair slicked into a neat, shiny bun on top of her head. She wears a small circular dot painted beneath each eye, like itty-bitty black teardrops. I'd last seen her in person at the CFDA Awards, where she wore a half-sheer dress by Christian Cota that completely exposed her right nipple and panties. She told a reporter that she'd wanted to wear even less, but Cota wouldn't let her: "I would take off my underwear and be a little bit more naked, but that would be a no. Christian put down the law." In early July, she was photographed at the Chanel haute couture show wearing what could be generously described as luxe hotpants but more closely resembled a silky white waffle-knit diaper, her feet strapped precariously onto what looked like twin icebergs. 
Her breakfast outfit is the most demure I've ever seen her, but people still stare when she walks in; it's as if her lush, dramatic red carpet image had been pared down to a simpler black-and-white study. "If you ask any of my friends, they will tell you that I get ready in five minutes, I really do. I just shoot from the hip," she says, speaking slightly from one side of her mouth like Drew Barrymore. She reaches into her leather backpack (Bottega Veneta) and pulls out a black sweater ("I don't know where it's from, but it's cute, right?"), which she tugs over her head. She is very slender with long limbs, black hair, and an oval face. Her complexion is so evenly pale that one might think she's wearing a full face of Geisha-style foundation; instead, her skin is clean and bare up close. She manages to tuck away large mouthfuls of yogurt parfait and a cup of tea without any effect on her deep red lipstick. 
Harper was raised in the inner fold of fashion: Her wealthy Colombian grandmother, whom she describes as her "fashion mentor," took her to Yves Saint Laurent haute couture shows in Paris when she was little and her mother, Violy McCausland-Seve, is the CEO of boutique investment advisory firm Violy & Company, which specializes in Ibero-American markets. Harper spent her early life in the coastal city of Barranquilla, Colombia. After Spence, Aiglon College in Switzerland and NYU, her first job was in the editorial department at Martha Stewart. On her second day there, she was discovered on a ribbon-buying errand when Stewart herself walked into the store. "I saw these eyes looking at me between the ribbons and I was like, Holy eff, that's Martha! And I had this crazy haircut — purple hair with black layers over it," Harper explains. "Martha came up to me and said, 'You should come work for me.' I was a nobody — just a wierd girl in the ribbon shop. And I said, 'I started yesterday!'" Stewart got such a kick out of Harper's constantly-evolving style that she instructed an assistant to take daily Polaroids of her outfits, which were then filed into a binder labeled "Michelle Harper Every Day."
There is a perception that Harper is an excitable, show-going clotheshorse with an affinity for cool makeup — NBC's NY Thread blog recently noted suspiciously that "the precise origins of her career as a stylist and brand consultant remain somewhat ambiguous," calling her  "a kind of living art object in the mode of Daphne Guinness or Anna Dello Russo." (Harper is not a stylist.) "I can only take it as a compliment," she says of the "muse" label bestowed upon her by designer Victor DeSouza. "I don't think it's everything that I am, and it doesn't encompass all that I do. I work very hard in finance, and I don't look like it. If you want to say financier who dresses like a cuckoo bird? Whatever, I get my job done." She stops for a moment, and grins. "It's not like people are calling you a big bitch. So I just say 'Thanks!' And leave it there."
So what exactly is her job? In 2005, after spending a few years working for her mother's firm, she co-founded her own cosmetics holding company, CB LLC, with her business partner Darac. ("He only has one name, like Cher.") She particularly relishes the scientific aspect of the beauty industry: "I love working in the labs and with the chemists. It's very analytical." The money isn't bad, either. "I love a good business with a high margin," she enthuses, the same way someone might say, "I love a good croissant," or "I love a good manicure." The company deals mostly in the dry business of buying and selling intellectual properties owned by various beauty corporations; they also own a few small cosmetic brands, including CRC Lab NYC, a line of thinning haircare products they helped create in 2007, and Darac's own makeup line, Darac Beauty, founded in 2009. Harper also does brand consulting for cosmetic businesses, but declines to name any of her clients due to nondisclosure contracts; she also has a fragrance project in the works, which she "can't say more about right now."
On the topic of her street style celebrity, Harper expresses the nonchalance of well-dressed showgoers pausing in front of photographers at fashion week, posing oh-so-slightly while pretending to check their phones. "That's so funny, the whole street style thing, huh? It's great!" She insists that she'd dress the way she does whether there were cameras around or not, although she doesn't mind the attention. "Levity! It's fashion and it's fun!" she hoots. Known as she is now, does she ever leave the house barefaced, say, or pop down to the bodega in her pajamas? "Oh yeah, I call it a jammy jam. I love a good PJ jam to go get my coffee or the paper or whatever," she says gamely, and then pauses. "But I have good pajamas."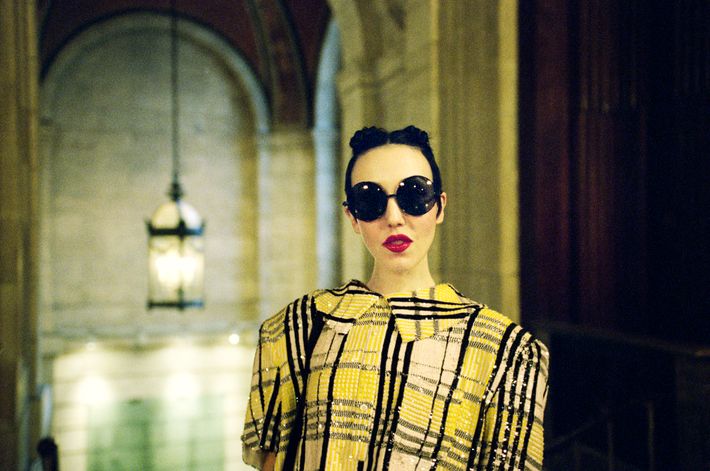 "My grandmother is my fashion mentor. She's friends with all of my friends on Facebook and walks around with her MacBook Air."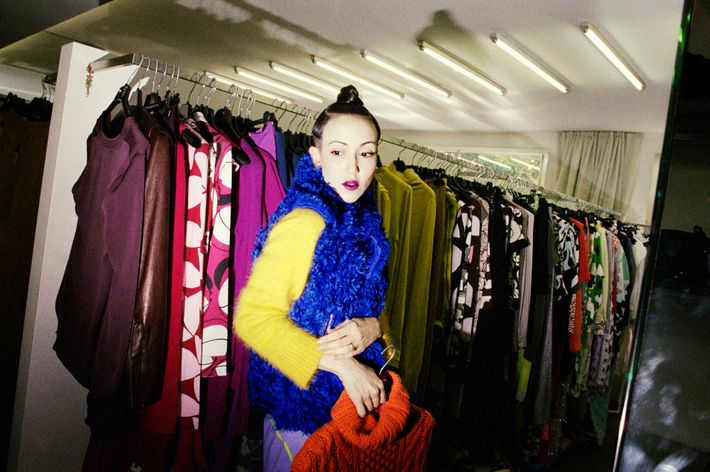 "I only have one beef with fashion, and it's platforms. I hate them. They give everyone cankles! They hurt, they're not comfortable, and they're not flattering. But you know what? You might see me in two weeks in a pair of platforms because they work really well with some vintage bloomers or something."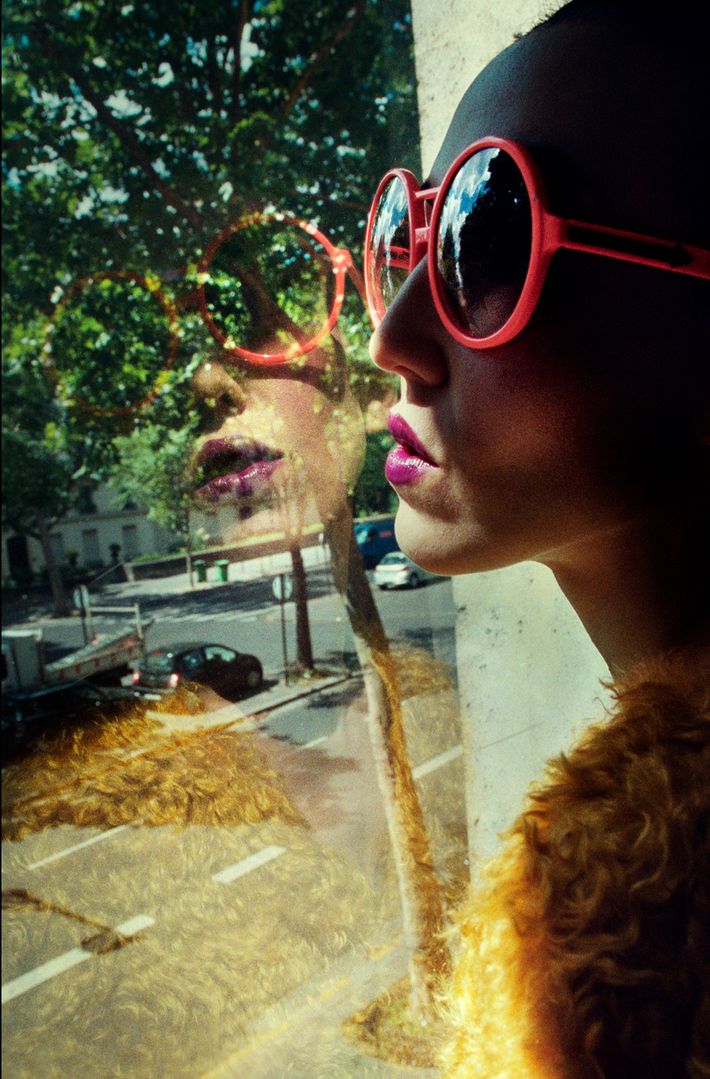 "It's so funny when people act like they're so tired of being photographed. Tell me you're tired when you've worked for ten days on closing a financing deal, and you haven't had time to shower or eat. I guess it's all relative, but I have seen people be so rude to some of those photographers and I just don't find it necessary."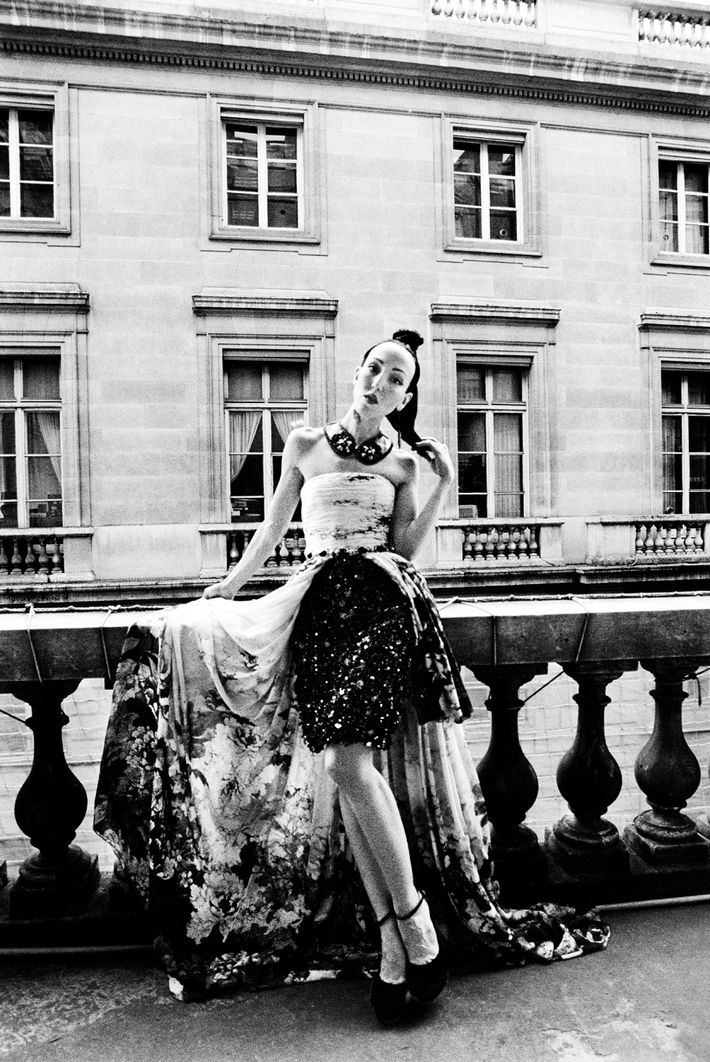 "I'm not great on the exercise thing. I've never been sporty. It's not really my area of discipline, although I was a ballet dancer when I was younger and I would love to get back into it."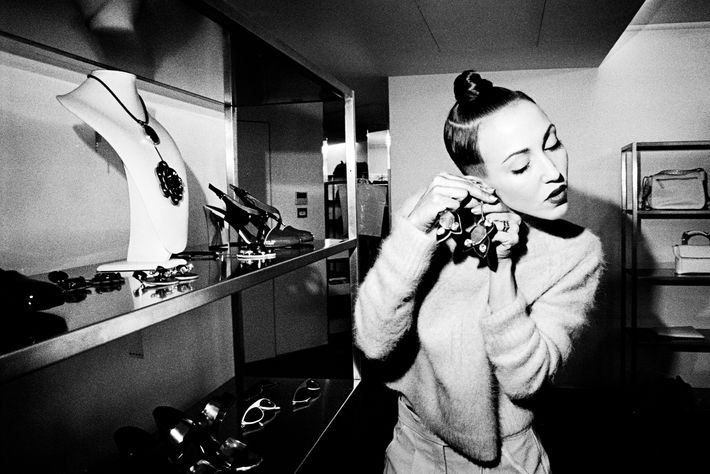 "I'm a 7 a.m. riser. I like to have my time to do my shower with all my beauty products. I'm a total beauty junkie and I love to luxuriate in the smell and the texture of that process."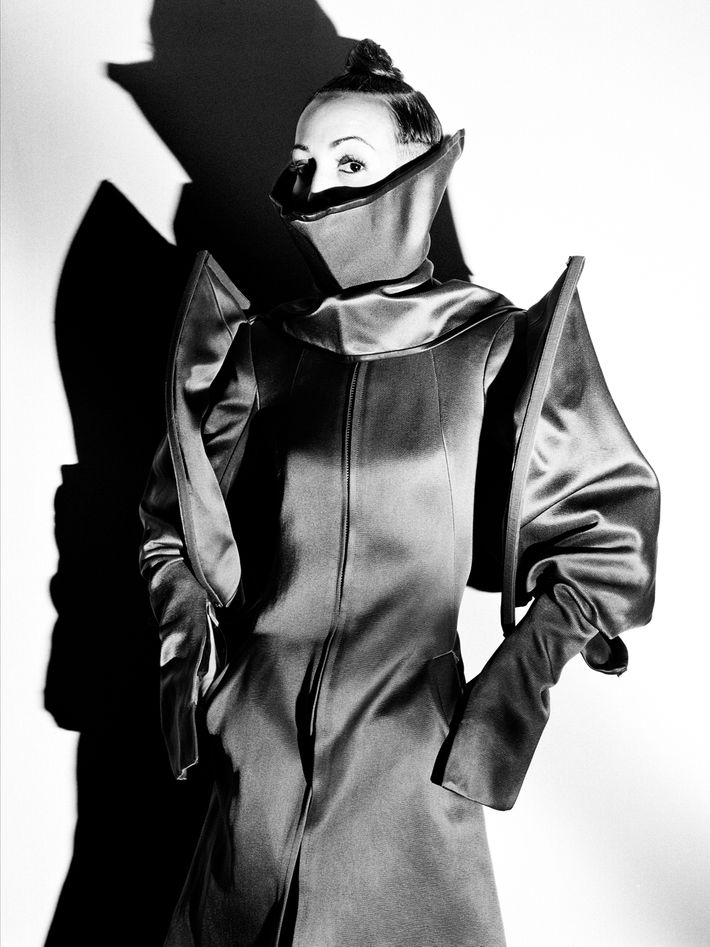 "I'm a little neurotic about archiving my clothes, but I think if you work hard to get something then you should take care of it. I'm always rotating things in and out, but I never put away the things I inherited from my grandmother – I always like to have them around, because I feel like they have good energy."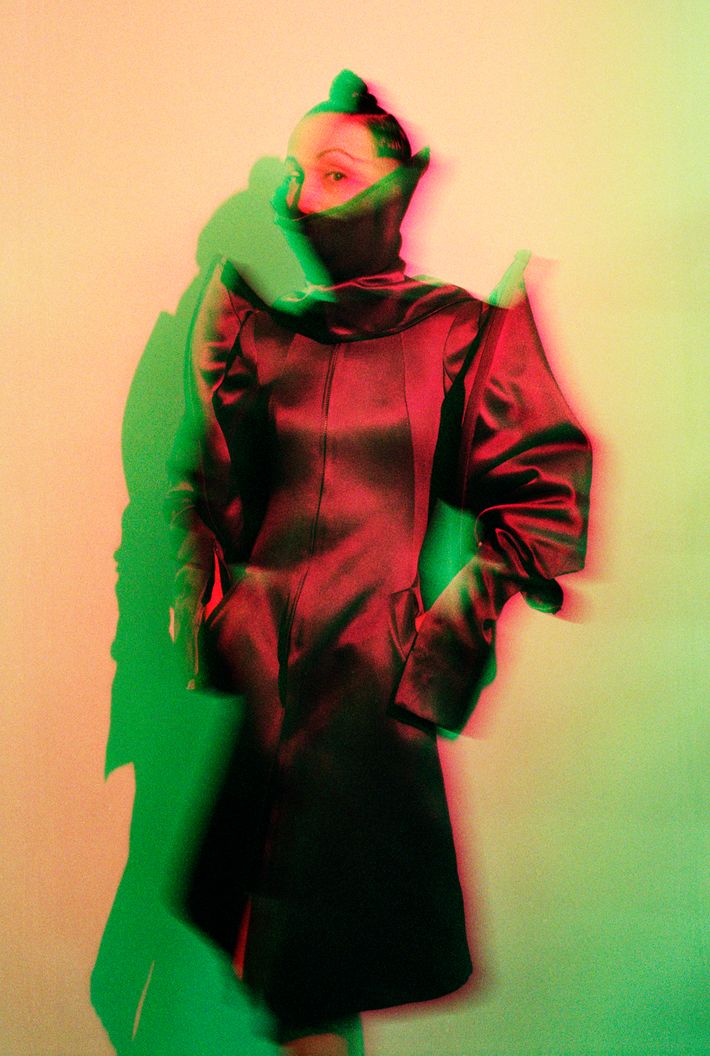 "Danilo touches up my hair whenever I can grab him. I always say I am wearing my Danilo – it's like a hat, really."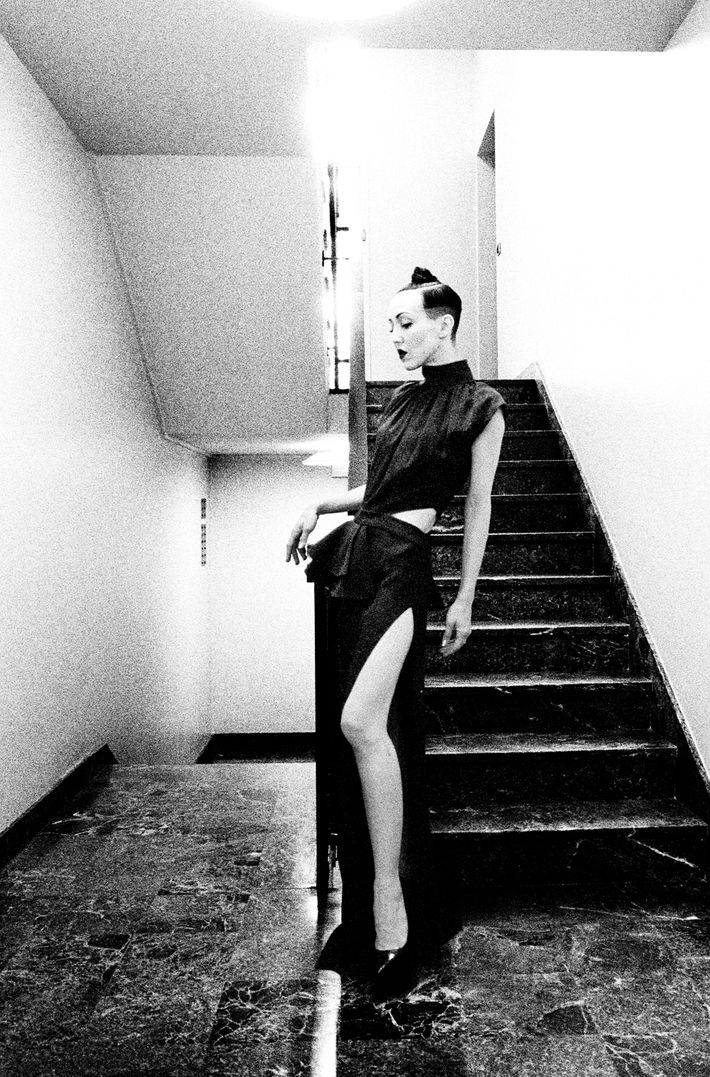 "There is this other side of fashion that I think is quite dark, this idea of what is right and what is wrong. I don't believe in it, because I think it generates fear."