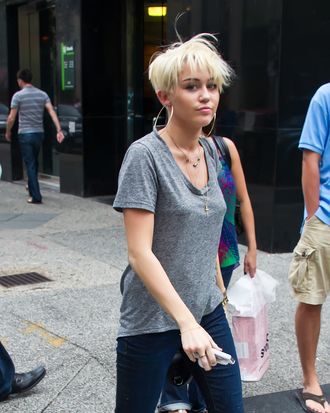 Photo: Ouzounova/Splash News
When Miley Cyrus debuted her bottle blond, asymmetrical, half-shaved haircut earlier this month, the singer tweeted that she had never felt more like herself. At the time, that self-assessment seemed a little off. But suddenly the 19-year-old country-pop graduate of the Disney school of girl stars is kind of a punk! Like Rihanna before her, the haircut has unleashed Cyrus's DGAF attitude.
Just look at her striding out of the Tumi store in Philadelphia Saturday. Buying your own high-end rolling luggage? Kind of punk! See, she can't even be bothered to lace her combat boots. 
Meanwhile, "Page Six" has her "strutting" into La Esquina and the Darby Thursday night, wearing a sheer black top and kissing her girlfriend on the mouth before meeting up with her fiancé Liam Hemsworth and club owner Scott Sartiano at 1Oak.
"She was trying to get everyone's attention," one of the Post's spies complained.
Mission accomplished, Miley!