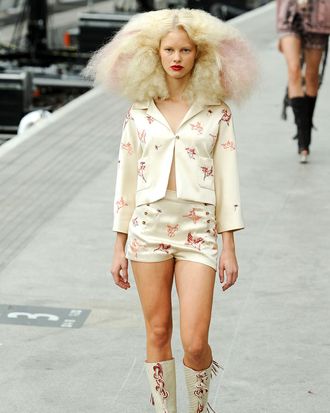 This is not Holman's hunting outfit.
Photo: Imaxtree
Style.com's helpful "Model Slash" series details the relative normalcy of models' lives between their catwalk struts and photo shoots — because they're just like us, don't you know, except more beautiful. The latest profile features native Utahan Hannah Holman, who spends her time off-season designing "earthy, raw" jewelry (working in collaboration with Katie Hillier, a designer for Marc by Marc Jacobs) and hunting big game. In fact, blessed not just in the genetic lottery but in the draw for government-allocated hunting permits too, Holman recently won permission to shoot her very own cougar.
Says the model, "We went out with a friend who is a hunting guide and knows exactly which peaks and little valleys they hang out in. Mountain lions often hang out up in trees but this [cougar] went into a cave. [Ed note: perhaps because it didn't want to be shot and killed.] I was scared it was going to attack us and took a few shots with a .30-30 rifle but ran out of bullets, so my dad handed me his pistol and that was the lucky shot." Not so lucky for the cougar, of course.