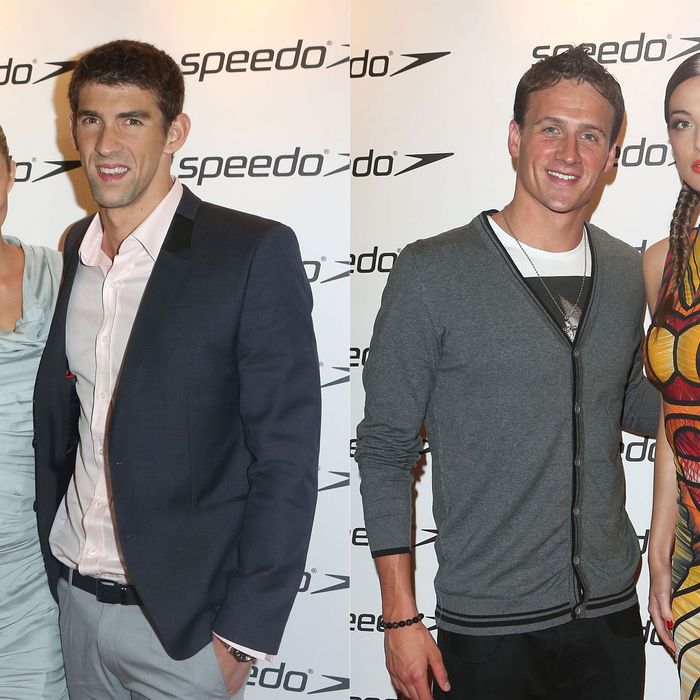 From left: Megan Rossee, Michael Phelps, Ryan Lochte, and Annabeth Murphy-Thomas.
Photo: Tim Whitby/Getty Images for Speedo, Tim Whitby/Getty Images for Speedo
Now that Lochte and Phelps are done with swimming, they're free to gallivant around London and holler at ladies as they please. Both are single, so for last night's Speedo Athlete Celebration at Kensington Roof Gardens, both were photographed with models on the red carpet. It's unclear whether Lochte actually hung out with Annabeth Murphy-Thomas or just posed for pictures with her, although the latter is more likely, because she was hired to wear a dress made of fabric scraps from Speedo's Fastskin3 Elite swimming suit and therefore had some contractual obligation to mingle.
But Phelps's girl is a whole other story: Unlike Murphy-Thomas, who is signed to London's Select Model Management, there's not much record of Megan Rossee's modeling work at all, although we do know that she's not one of those kinds of models because she says so on her ModelMayhem profile: "I am super easy going and pretty much down for any type of project (that doesn't involve nudity)." It's unclear exactly what the exact nature of her relationship to Phelps is, but at the beginning of July, she posted several photos of him shirtless in the back of a car with two dogs. (Seriously, what is it about quasi-maybe-sexy photos taken in the backseats of cars these days?!) In other news, this was her first time in London, and she was amazed by its absence of trash cans. It's probably safe to assume she's having a fabulous time.
Speaking of fabulous, back to Lochte: He finally ditched that gray cardigan (or lent it to his teammate Tyler McGill, according to the picture below) and wore a very prom-appropriate black jacket with shiny blue lapels to officially celebrate his 28th birthday at Planet Hollywood today. Yes, those are Olympic medals, not upside-down balloons, made of frosting on his cake.