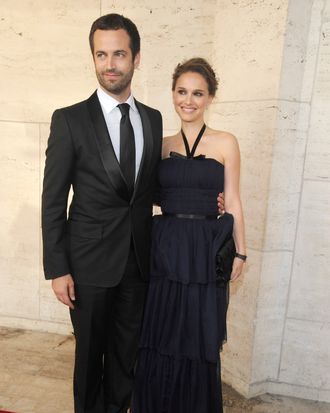 Newlyweds Benjamin Millepied and Natalie Portman.
Photo: Rabbani and Solimene Photography/Getty Images
Natalie Portman married Benjamin Millepied, the father of her 1-year-old son Aleph, at a private home on the Big Sur in California on Saturday, Us Weekly confirms. In December 2010, the couple announced Portman's pregnancy and their subsequent plans to marry, and showed up to the Oscars this year wearing rings, touching off a flurry of speculation that they'd already wed in secret (to the best of everyone's knowledge, the rings turned out to be for their engagement). This weekend's ceremony was Jewish and took place at 8 p.m. under a chuppah (which means "canopy" or "covering" in Hebrew, and consists of a cloth held above the couple that symbolizes the home they will build together). There were supposedly about 60 guests at the wedding, including Macaulay Culkin and Ivanka Trump. 
According to the London Evening Standard, Portman considered not buying a wedding dress at all. A source told the newspaper before the ceremony:
This wedding is for their closest friends and family. It will be a very relaxed affair. They're not sending out invites. Natalie may not even buy a new dress!
In related news, Us Weekly says the wedding took place "in the dark" — by which they probably mean "twilight," since it wouldn't have been pitch black by 8 p.m. in California. Anyway, mazel to them!
Update: According to JustJared, Portman wore a lacy, long-sleeved, tea-length white dress, custom-made for her by Rodarte.