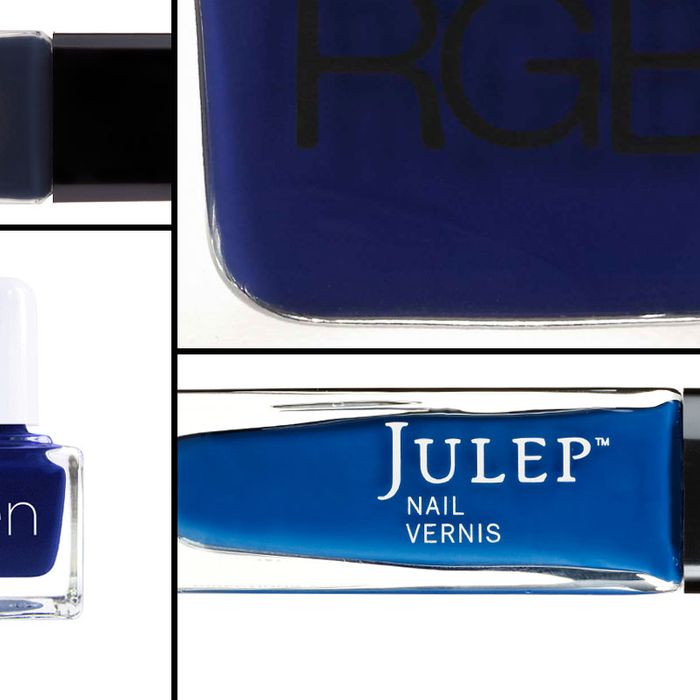 Fifteen years ago, Chanel came out with a polish called Night Sky. It was the deepest, richest navy, packed with tiny flecks of silver shimmer (like a starry sky, get it?). Sadly, the lacquer is no longer available — unless you feel like throwing down $200 on eBay — so when I recently spotted a new crop of dark blue polishes my heart completely soared. Even better, these offerings are shimmer-free (as an adult, I just can't be bothered to remove shimmer). It's a way to do black polish without feeling too goth about it — and it makes you feel really put together in that sexy-chic Carine Roitfeld kinda way. 
Julep's Gunta ($14, Julep) arrived on my desk as part of a collection of ten polishes. Most of the colors were bright and jewel-toned, but this was the first one I grabbed from the box. The rich, denim-y hue drew me in and at that moment, I knew this season was going to be all about blue nails. 
Jin Soon's Rhapsody ($18, Sephora) is more of a cloudy, greyish-navy and part of the famed manicurist's debut collection of polishes. It's specially formulated to have a high-gloss finish and it certainly does. I cannot. Stop. Staring. At. My. Manicure. (Available later this month.)
RGB's Cobalt ($16, RGB Cosmetics) is a darker-than-dark midnight blue from the California-based polish line. Creator Gina Carney says she was inspired by the bold colors on the runways of Celine, Balenciaga, and Lanvin last winter. (Available in September.)
Ten Over Ten's Commerce ($18, Ten Over Ten) was born after Nadine Ferber and Adair Ilyinsky heard clients in their Tribeca salon asking for a "classic navy." Brighter than the other navy polishes mentioned here, it's a great option for when you want to take a plunge into the dark, without going too deep.