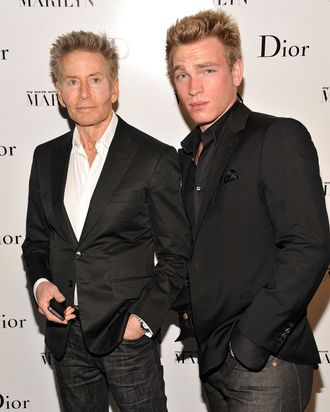 Photo: Gary Gershoff/Getty Images
Surprise! Calvin Klein's 22-year-old ex-boyfriend is writing a book about his two-year-long relationship with the designer, and, according to the Daily News, "after just days on the market it's incited a bidding war in the publishing world." Gruber already has two offers to consider and is expecting a third. But the man behind the celebrated Facebook post "I just had such amazing learning experience from Rehab" enlisted some help this time around:
Gruber has tapped a well-known author to develop the book as they begin to flesh out the structure and chapters. The writer spoke with us anonymously, and called the content that will be revealed "beyond shocking."

"This is the only way he can get closure," he said of Gruber on the phone from Los Angeles. "He has a lot of secrets about Calvin and he has the right to tell people."
The ghostwriter added, "If it was just [Gruber's] story, then there's no way we could sell the thing." You mean, a stint as a gay porn star, a cocaine arrest, and a tryst with someone named "Nastia" wouldn't be a best seller? What are you people reading these days? Fifty Shades of Grey, still?