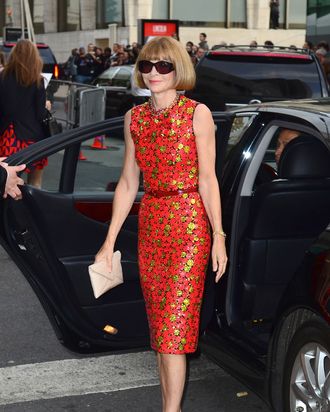 Photo: Alo Ceballos/FilmMagic
The NFL moved its season opener back a day so it wouldn't compete with Obama's September 6 speech at the Democratic National Convention. But Obama will still have stiff competition: Taylor Swift will perform at the VMAs, Madonna will perform at Yankee Stadium, and Fashion's Night Out— the massive multi-city shopping event booby-trapped with Kardashians and Olsens— will also be underway.
The only person expected to be affected by this scheduling conflict is, of course, Anna Wintour. As one of Obama's most prominent supporters and the ringmistress of FNO, how will Anna divide her attentions?
FNO hasn't released Anna's schedule for the night yet, and offered no comment when we asked whether she'd be rubbing shoulders with the shopping masses or glued to Obama's speech on TV. Then again, Anna never seemed like the snuggled-up-in-front-of-the-TV-during-primetime type. More of a DVR kind of gal, assuming DVR is the name of the assistant who hand-delivers custom DVDs to her house every night.