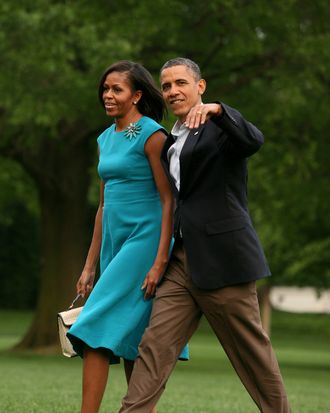 This one's for the ladies.
Photo: Martin H. Simon/Pool/Getty Images
Why would Obama, who has drawn ire for nibbling crudités at Sarah Jessica Parker's West Village townhouse and hobnobbing at Harvey Weinstein's country house in Greenwich when he's got the economy to worry about, agree to do an interview with Glamour? Perhaps because he'll be discussing women's health, and Glamour is a middle-of-the-road publication with a wide circulation that might encourage his female supporters to get to the polls. But of course, his opposition scoffs that he's avoiding hard-hitting questions by opting for the kind of fluffy profile that most women's magazines are unfortunately known for. And while most of his critics have been unnecessarily catty — this is health he's discussing here, not mascara — others say he should balance out this interview with tougher interviewers.
National Review contributor Jim Geraghty griped to WWD:
 The grumbling about Obama's fluff interviews would be quieter if the country were in a time of peace and prosperity, or if he hadn't gone close to eight weeks without a press conference.
Point taken, although it's worth mentioning that Obama did do a press conference regarding Akin's rape statements ten days ago. What's more, there's also a precedent from the other side of the aisle: In 2008, outgoing president George W. Bush did an interview with Glamour when the economy was way worse off than it is now. Glamour says that they've also reached out to Mitt Romney for an interview, but haven't set anything up yet.