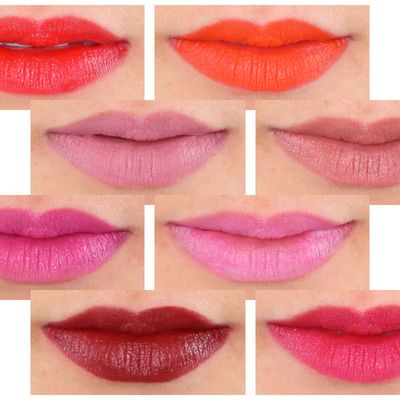 Slick, shiny lips are guaranteed attention stealers. But for those who prefer their lipcolor opaque, long-lasting, and a little more lived-in, there is matte lipstick. Problem is, these tend to suck the moisture right out of lips, leaving them dry, cracked, and cakey. Beauty companies are therefore constantly concocting new mattes that claim to deliver intense, full coverage color without totally Voldemort-ing the lips.
In search of the perfect matte, I tested dozens of matte formulas, both new and old. Some were traditional lipsticks, while others were stains or moisturizing hybrids (i.e. matte lipsticks with a subtle sheen). After more than two weeks, what did I learn? That not every lipstick sold as matte is really matte (like the rather creamy Yves Saint Laurent Rouge Pur Couture: The Mats); drugstore brand mattes aren't quite up to snuff and some mattes are scented (good and downright terrible).
Underwhelming
Make Up For Ever Rogue Artist Intense ($19, Sephora) – If you want a lipstick so dry and chalky it emphasizes the cracks in your lips, this one's for you. It also smells like Play-Doh that's been left out of its container a bit too long. The color (I went with #5, a dusty rose-pink), however, is totally full-coverage.
Recommended, With Reservations
Revlon Matte Lipstick ($8, Drugstore) – Once you get past the perforated plastic shrink-wrap (trickier than you think!), it's the best matte in the drugstore aisle, with a smooth, tug free application. On the downside, however, the coverage was a bit spotty and it left my lips feeling a little parched.
Guerlain Rouge G L'extrait Crème de Rouge Matte Colour ($48, Saks Fifth Avenue) – This new lipstick/gloss hybrid is goopy just out of the tube, but dries to a near-matte finish. I liked the full impact hue of "Luxure," a dark red. My issues: The product tends to bleed a bit past the lip line, especially if you put too much on. And if you don't let your lips totally dry after application, it will leave telltale marks on everything — coffee cup, sandwich, boyfriend.
Recommended
MAC Matte Lipstick ($15, MAC) – Get past the vanilla scent that all MAC lipsticks tend to have, and you'll notice the smooth application and full coverage color that are the reasons why this matte is so popular. Ask a roomful of beauty editors what red they wear and at least half will probably name MAC's "Ruby Woo." It doesn't budge or bleed.
Smashbox Be Legendary Matte ($19, Smashbox) – This one has a really smooth, almost cream-like feel. The colors are bold and totally opaque, which is great for my naturally darkish lips (my favorite is "Fuchsia Flash"). This one made it through breakfast and lunch before fading, and even then I had to use makeup remover wipes to get it completely wiped off.  This one is built to last, seriously.
Chantecaille Lip Matte ($30, Chantecaille) – This lipstick glides onto lips really smoothly, almost like a cream, but dries down to a matte finish. However, you can still smoosh your lips around without dragging them against each other to evenly distribute the color. "Guava," a pinkish-mauve, delivered more color than most mauves usually do.
Highly Recommended
NARS Velvet Matte Pencil ($24, Nars)  – All the colors of this pencil/crayon hybrid are intensely pigmented ("Dragon Girl" is a cult favorite) and the finish, a true matte, is extremely smooth. The only thing that knocked it out of first place for me is that I found myself reaching for a little lip balm for extra moisture as the day wore on. (Also, you end up losing a lot of product every time you sharpen the pencil.)
All-Around Winner
Tarte Matte Lipsurgence ($24, Tarte Cosmetics) – This is the matte-est of the mattes, friends. There's zero shine, and the color (I'm partial to "Lively," a bright fuchsia) latches onto lips with a Kung Fu-like grip. At the same time, the minty-smelling, jojoba-oil-infused formula keeps lips totally soft and hydrated. Like the NARS pencil, the Tarte's pointed tip helps precise application – but unlike the NARS, this one doesn't ever require sharpening; you just twist the bottom to push up more product. And for those of you who don't like the feeling of something heavy coating your lips, it's practically featherweight. It's the first thing I always remember when transferring contents from one bag into the next — before my wallet, even — and definitely before my apartment keys (lockouts are a recurring event, un-Tarted lips are not).