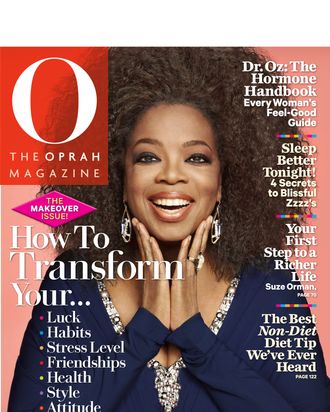 Oprah's natural hair.
Photo: Courtesy of Hearst
Oprah Winfrey posed for the September cover of O: The Oprah Magazine with her hair in its natural, unprocessed state — a first for the publication, although she says that she often wears her hair naturally on vacation and weekends. In the accompanying interview, she doesn't talk much about the politics of natural versus processed hair — although she established back in 2009 that she does not wear a weave — but she does establish that she's never cut it short:
I wanted to wear it close-cropped a la Camille Cosby but her husband Bill convinced me otherwise.  'Don't do it,' he said.  'You've got the wrong head shape and you'll disappoint yourself.'  I took his advice.
Her dogs, on the other hand, don't have that problem when they get shaved: "They're friskier and livelier, feeling more themselves once the weight of the hair is released." Presumably, they also just can't stop admiring their reflections in the water bowl, either.