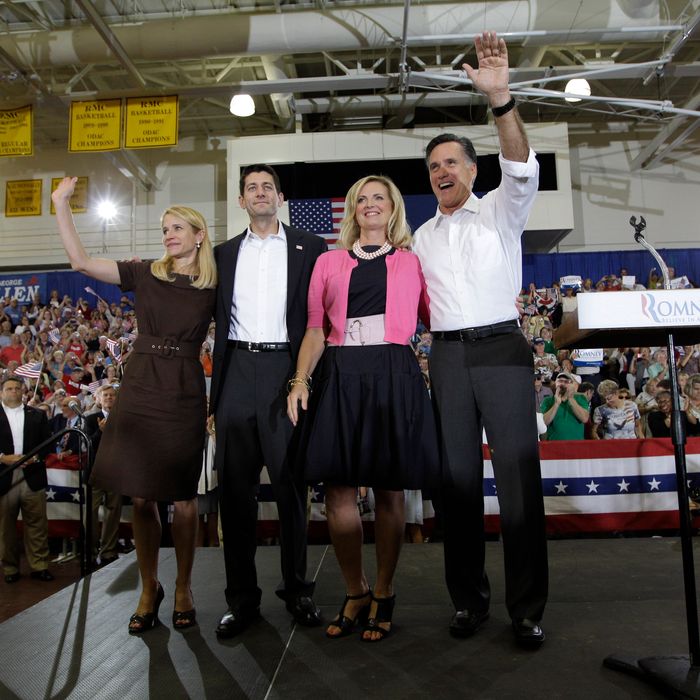 Photo: Mary Altaffer/AP Photo
Representative Paul Ryan and his family made their big national impression today when Mitt Romney announced Ryan as his VP pick in Norfolk, Virginia. First a youthful, tie-free Ryan jogged onstage, waving to the crowd while the Air Force One soundtrack boomed over the loudspeakers. After a his stern speech about "difficult decisions," 43-year-old Janna Ryan ushered their three children onstage for a round of hugs with the Romneys.
Mitt and Ann looked the same as always. (Were they trying not to upstage the Ryans?) In fact, Ann re-wore a favorite pink corset-style belt that wound up clashing with all the red, white, and blue paraphernalia. Though less fashion forward, the Ryans' wholesome looks spoke volumes. If their clothes could talk, here's what they'd be telling us.
Paul Ryan's open collar: "Look at me, loose and carefree. I'd even be flapping in the breeze if not for all this starch. This top buttonhole is as virginal as a dutiful pro-life Catholic before marriage! I belong to a man who has never been corrupted by that tie-wearing private sector."
Note: Mitt wore a tie when he introduced Ryan (see below) but removed it before a later Romney-Ryan photo op (above). Backstage makeover?
Janna Ryan's brown dress: "Nice and conventional. Inoffensive. Plain. Please note my very Ann Taylor boatneck, which as any Oprah magazine will tell you, is universally flattering cut."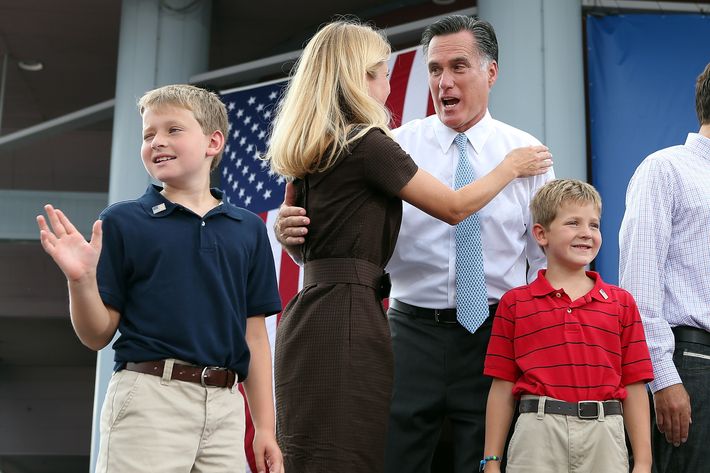 Charlie Ryan's polo shirt and khakis: "Sunday best."
Sam Ryan's beaded bracelet: "I LOOK AWESOME. I'm totally going to get to skip school this September. Oh, hey girls! I see you! Nice flags you got there!"
Liza Ryan's plaid dress: "The Romneys sent me to the Ryans as a symbolic plaid gesture. I was cut from the same cloth that made their kids' Christmas card outfits. Our two families are now infinitely bound."