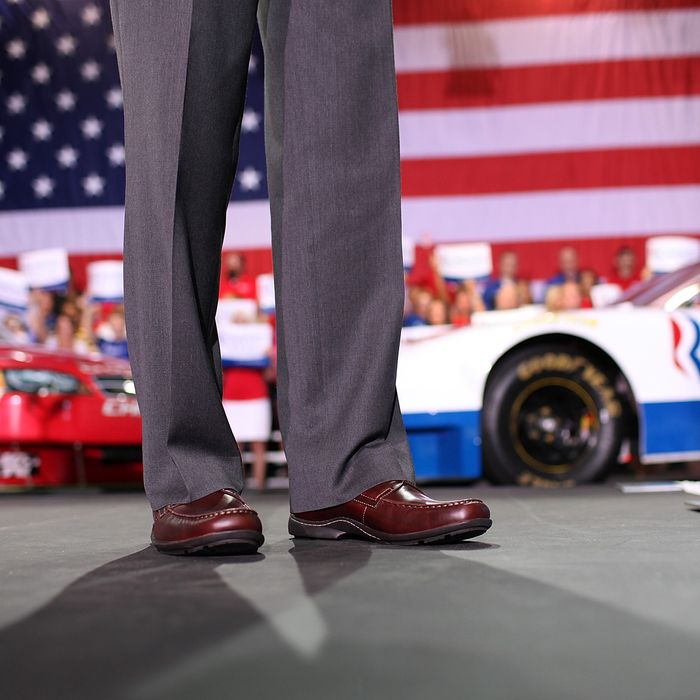 Photo: Justin Sullivan/Getty Images
Much has been made today about Representative Paul Ryan's dweeby personal style, and for good reason. In a suit, he resembles a junior-varsity basketball player at the year-end banquet. But, as anyone who logged time in the Midwest can attest, the vice-presidential nominee's style is an expression of his middle-American roots so pure that, if it weren't for his frightening politics, might be kind of endearing.
I have stared down at these squarish-toed, rubber-bottomed, hybrid dress-casual shoes for more Sadie Hawkins slow dances than I would care to remember. I didn't like it, but it wasn't until I moved out east that I knew that it was "one of the most grievous mistakes a man can make," as Women's Wear Daily put it this morning.
We should cherish these moments of sartorial authenticity. By the time the convention rolls around, Representative Paul Ryan will have spun around the GOP phone booth to reveal the more polished Vice-Presidential Candidate Paul Ryan. Remember Sarah Palin's makeover montage? It wasn't until after her Lisa Kline–guided, Republican-party-funded spree at Neiman Marcus and Saks Fifth Avenue that the hockey mom traded her sparkly seasonal pins and turtlenecks for Valentino jackets.
Wisconsin doesn't even have a Neiman Marcus or a Saks. As far as department stores go, Ryan's hometown mall in Janesville, Wisconsin, holds a Boston Store, a J.C. Penney, a Kohl's, and a Sears. Even J.Crews, home of the magical Ludlow suit (the male equivalent of the jeans in Sisterhood of the Traveling Pants, it seems), are few and far between in America's Dairyland. It's comfort-fit country. For Ryan to "get some elegant lace-ups," as WWD prescribed, he would have to do as my wealthier, private-school friends did before prom and make a shopping excursion to Chicago, a.k.a. Obamaland.
There's no excuse for square-toed footwear, but it's nice to know, before the smoke and mirrors of presidential politics descend, even one tiny truth about a candidate. Paul Ryan is the kind of guy who never noticed what the cool kids on Capitol Hill were wearing. Vote accordingly.