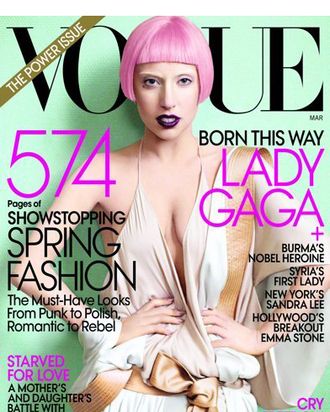 Gaga's March 2011 Vogue cover.
Photo: Mario Testino/Vogue
Gaga tweeted yesterday that she'd been pestering Vogue about her imminent September cover: "Don't worry I've been txting Wintour all morning trying to get that cover queens. next im sending bagels to VOGUE (complex carbohydrate war)." Because, as Gaga has explained before, Anna is quite good about responding to text messages. Indulge us as we imagine their conversations:
Gaga: Yo bitch! Where's my cover at?
Anna: Wrong Anna. Treblin, not Wintour.
Gaga: Hahaha I know that was totally a joke. Smooches to Nicola!
Anna: No, I was joking. This really is Anna Wintour. How are you, Stefani?
Gaga: Oh, hahaha. I knew it was u all along. Um anyway can u send that cover over? Some little monsters in the haus are getting antsy.
Anna: Unfortunately we will not be able to show it to you today. But I can assure you it looks lovely.
Gaga: AH I WANT TO SEE IT I CAN'T WAIT TO TWEET ABOUT IT!!!! 
Anna: No, that won't be possible.
Gaga: Wait really? Not even just a corner of it? Like a teaser for fans to transform into crazy beautiful unique unicorn art and post on littlemonsters.com?
Anna: No, sorry.
Gaga: So ur not sending it to me at all?
Anna:  I'm afraid not.
Gaga: U might want to re-think that. I know Vogue's weak spots. And Murray's bagels delivers.
In related news, the Post reports today that Lindsay Lohan will have a role in one of the music videos for Gaga's forthcoming album, ARTPOP (which, as Gaga emphasized on Twitter, we are supposed to CAPITALIZE), although neither party will confirm it. This would be exciting, no? Of all the celebrities we can easily picture, say, reclining nude while being swarmed by muscular mini-men, Lohan's near the top of the list.