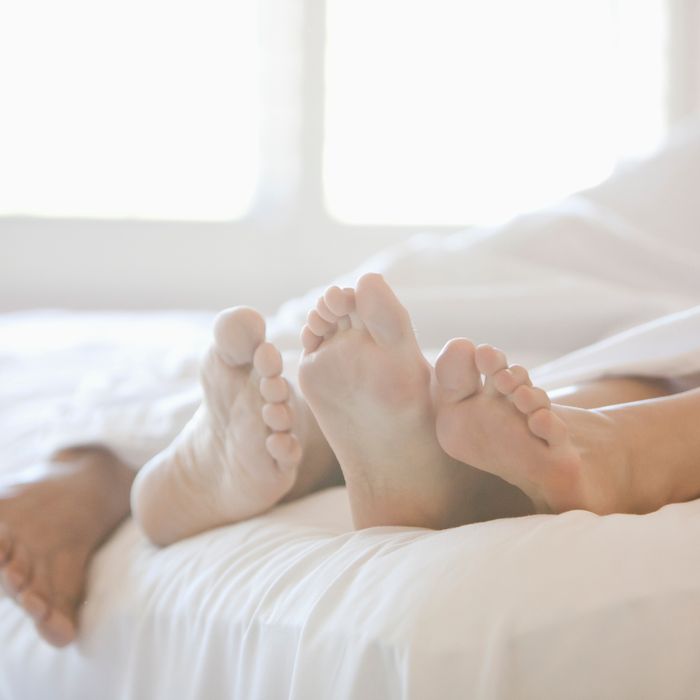 Photo: Assembly/Blend Images/Corbis
Because the rise of bridal boudoir photography wasn't cringe-inducing enough already, the latest latest trend in wedding photography is "morning after" photography, professionally shot photo albums of postcoital newlywed bless, the Daily News reports.
"Sexy shoots featuring rumpled beds and steamy showers are a hot new trend within the wedding business… these intimate photo shoots take place in newlyweds' bedrooms or even the hotels where they've spent their first night as husband and wife."
Gross. But is it grosser than boudoir photography?
In case you didn't investigate boudoir yourself when the deals for it began showing on Groupon and Living Social about a year ago, The Daily published a nice explainer on the booming business earlier this month.
"Before walking down the aisle to the sweet sounds of Felix Mendelssohn, modern brides are shedding their clothes — not to mention virgin bride illusions — for sexy boudoir photographs as wedding gifts for their husbands-to-be."
A Dallas-based boudoir photographer told The Daily that a lot of women opt for the service out of fear that their fiancés are looking at pornography, making boudoir photography more the depressing and delusional of the two. (He is looking at pornography, and no soft-lit photo of you wearing only his fishing waders will change that.) But at least it's for his private use. The premise of morning after photography appears to be more artistic-commemorative.
One morning after customer, a 38-year-old New Jersey PR executive, told the News that she posted her couple's shower shots to Facebook. And the sexist implications of competing with pornography for your partner's attention have nothing on the psychic trauma sure to be inflicted upon the child who encounters mom and dad's sexually sated faces on the Internet.