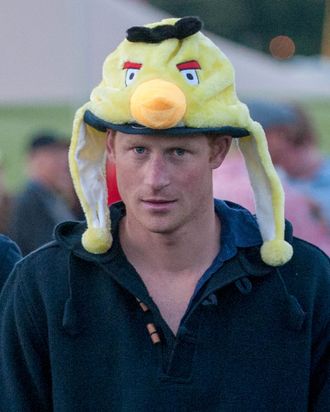 Prince Harry.
Photo: Insight News & Features, Inc.
We have every reason to keep talking about Prince Harry's nude photos — particularly since it's late August and nothing more interesting is happening — so here are new nondevelopments on that front: It's safe to assume that Harry is currently in the royal doghouse, possibly grounded with no one but butlers and the occasional corgi to keep him company. Over the weekend, he reportedly engaged in the grand tradition of shutting down his Facebook account — a symbolic act that many people recovering from nudity scandals and other drunken misbehavior have done before him. According to the Telegraph, Harry's alleged page (which had high privacy settings) was registered under the name "Spike Wells" and featured personal photos of the prince with his friends — because even (or especially) royals sometimes need help remembering what happened at last night's party or want to check if that girl was actually cute or just seemed like it at the time.
Meanwhile, plenty of celebrities are weighing in on Harry's behavior, including Nathan Lane, who gave the Post this very succinct quote: "I don't know why everybody is giving Prince Harry a hard time, he's like every other red-blooded American man — he wants to get drunk and go out with hookers." Also, Playgirl publisher Vincent Stevens piped up about how awesome it would be for Harry to pose for a centerfold, although he rightfully understands that "there's no way in the world [Harry] would ever consider this." He tells E!:
He's a wild party guy … He's appealing to a lot of people because, although he's from the royal family, there's sort of this untamed nature to him. I think that's something that's really attractive to our readers and to the general public. He can't be contained by the royal family. He's just a free spirit.
But what if the centerfold money went to charity? Just think of all the good that could be done. And what about the girl from the photos? Just think of all the lucrative centerfold opportunities for her.