No Olympics-themed challenge? Presumably, Lifetime didn't want to remind viewers that, yes, the Olympics are on, and you can change the channel to watch them, but who wouldn't love to see the designers make warm-up suits that go from day to night or junior prom dresses for the girls who just missed qualifying for the gymnastics team or something?
A flawlessly dressed Heidi (last week's sweatsuit must have been at the cleaners) tells the designers that they'll be putting together a red-carpet look for a very special client. Even though this is almost no information at all, Kooan expresses grave, incomprehensible concern. As the designers head over to the South Street Seaport to meet Tim, Gunnar says he hopes they'll be designing for Heidi. "I want to dress her up! She's like a life-size Barbie!"
A fleet of Lexuses awaits the designers, but don't get your hopes up — this challenge bears no resemblance to season five's weird, wonderful car challenge, where the designers used only the raw materials and spare parts of a Saturn. Instead, the Lexuses were tied in with a flimsy explanation about matching colors or something and an extended fumble with remote keyless entry that made it seem like the producers thought that particular technology was brand new. And isn't it sort of unfair to show the designers new cars, tell them they can't keep them, and announce that, on top of everything else, it's a team challenge?
Elena, continuing her run for Miss Congeniality, announces, "I don't like to work with anyone. And who does??" A minute later, when she's paired with Buffi, she scowls and says, "My worst fear came true." The newly paired designers all drive off in different directions to meet up with seven designers from past seasons of Runway, for whom they'll design an Emmy Awards–ready outfit. Back to serve as the challenge's clients/models are Irina (ugh), Kenley, Laura, Anya, Mila, April, and Valerie.
Once sketches have been argued over and Mood has been rushed through, it's back to the workroom, and the wheels are almost instantly off the wagon. Elena is convinced that she's a better tailor than Buffi, and maybe that's true, but rather than making a plan to get the work done, Elena settles for slamming doors and chain-smoking and telling Buffi she can't eat until they're finished. As Christopher put it, "Elena's personality sometimes seems like she escaped from the woods and she's ravenous, and she will bite your head off until she gets what she wants."
While I'd like to think that maybe Gunnar is getting less bitchy as he becomes more legitimately confident, it's more likely that Kooan was so overwhelmed that he just did as he was told. Gunnar might not like teammates, but it seems he's into lackeys — and possibly henchmen. Their chemistry isn't the problem; their client is. Irina whines and snipes about the color, the cut, and the tailoring, and when the judges talk about how beautiful she looks in it, her self-satisfaction is extremely off-putting. Great, Irina. You made Kooan sad, and you made me actually stick up for Gunnar. Go home. Meanwhile, Christopher is excited to be paired with Andrea, because he wants to learn from all the other designers, and why not start with the most experienced? Andrea, on the other hand, says she's never done a collaborative design before, which surprises me. But they struggle with the fabric they chose (Andrea takes hours and hours just to cut out the skirt), and by the time Anya and Tim come by to critique, they're already so far off track that Andrea is digging through the garbage for more fabric and Christopher is near tears.
Soon enough, we're off to the runway, where Krysten Ritter is this week's guest judge, and Ven makes off with another win for the Grace Kelly–style dress he and Fabio made for Kenley. And while it's Raul who's sent home for the shapeless dress he and Alicia make for Mila, Christopher is the one melting down during the critique of the dress he and Andrea made for Anya. (Krysten Ritter actually starts laughing when Christopher cries, which I hope was just a nervous reflex.)
If you take a look at the things Andrea has been posting on Twitter this past week, the suspense goes out of the "cliffhanger" surrounding her disappearance. It's obvious that if you're tweeting out criticism about the show's policies and sponsors, you didn't come back and win a spot in the final four. Sticking up for your convictions is admirable, but I have to wonder: Andrea couldn't have looked into some of this before signing on to do the show?
Click through the slideshow to see this week's looks. Am I alone in thinking it was a weak night? Or was anything going to feel anticlimactic after the whimsy of candy couture?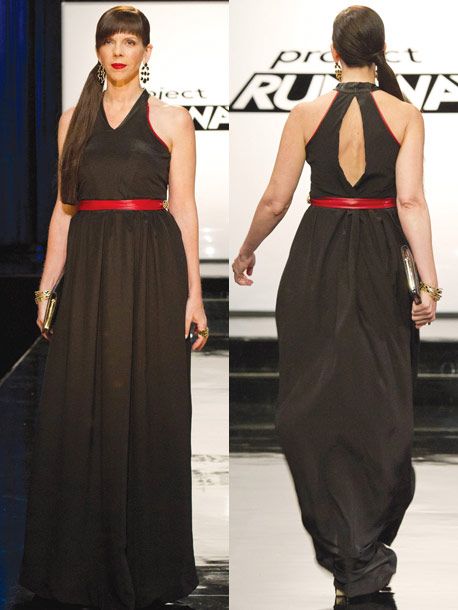 Alicia Hardesty and Raul Osorio —  Raul Osorio, eliminated
I give Mila credit — in the years since her season aired, she's found a way to give constructive criticism. But all the gentle feedback in the world couldn't help two designers who'd never sewn a gown before. At one point, the judges asked why Alicia and Raul hadn't made Mila a suit or a tuxedo, since both of them have strong menswear backgrounds, and Alicia and Raul said they didn't know that was allowed (I went back and listened to Tim's instructions at the beginning of the challenge and he did say "look" instead of "dress"). I wish they'd tried to; instead, we're left with a frumpy, unflattering look that Nina claimed took "zero effort." Michael criticized the styling, too, and Nina asked why Mila didn't stop the styling if it was that bad. Victim blame, Nina. Victim blame.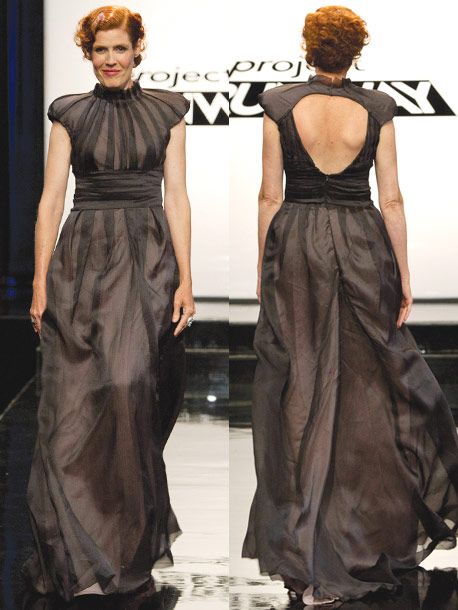 Buffi Jashanmal and Elena Slivnyak
During most of the episode, I was convinced Laura would have to go down the runway in some sort of muslin poncho; the fact that Buffi and Elena actually put a garment together during all of that chaos is at least a little impressive. But it's so dark and dour for Laura (who loves black, but not this much), and she (and Tim!) were spot-on to point out that the dress was over-ambitious. I'm actually a little sad that we didn't get to see a better blend of Buffi's sheer kook and Elena's ability to edit and construct. I'd imagine Laura could carry something like that off quite nicely.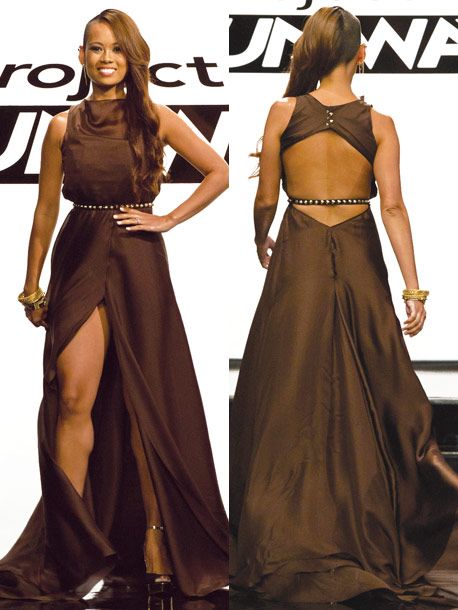 Andrea Katz and Christopher Palu
Where to start? First off, it's hard to take a tall, beautiful former Miss Trinidad and Tobago and make her look old and cliché. I don't think that it was a terrible idea, way back at the sketch phase, but somewhere between choosing the fabric at Mood and frantically trying to rework the bodice in the workroom, it came completely apart. It's the execution that surprises me most — the hooks that show, the slit that looks like it was done in 30 seconds, the misshapen parts of the back. Apparently the first thing Nina wrote on her score card was "cheesy." I'm hoping Christopher bounces back from this (and Andrea, too, if she does come back) — it's clear he's capable of more.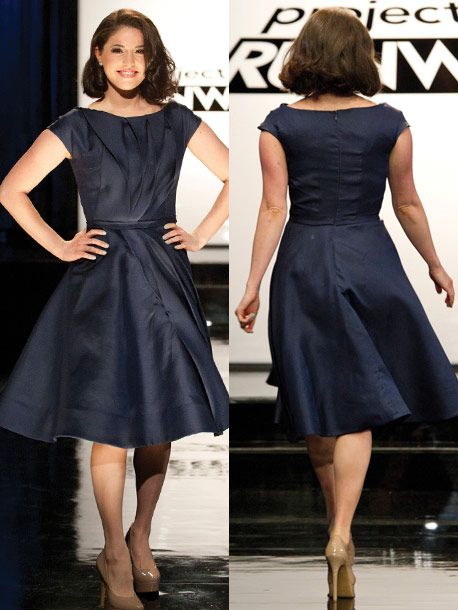 Ven Budhu and Fabio Costa — Ven Budhu, winner
This dress is very Kenley, but still completely true to Ven's aesthetic (Michael said that he doesn't know Fabio's work well enough to see if or how it influenced this dress, and I agree). The ability to meet a client's needs while still maintaining your own vision is commendable, and, as ever, Ven's tailoring is impeccable. But it doesn't read as a red-carpet dress, and maybe that does have something to do with the length, as Krysten Ritter suggested (although there are many red-carpet-ready tea-length dresses out there). I don't want to sell Ven's accomplishment here short. This is a beautiful, well-made dress. It's just that the lack of a "wow" factor makes it feel like he won by default.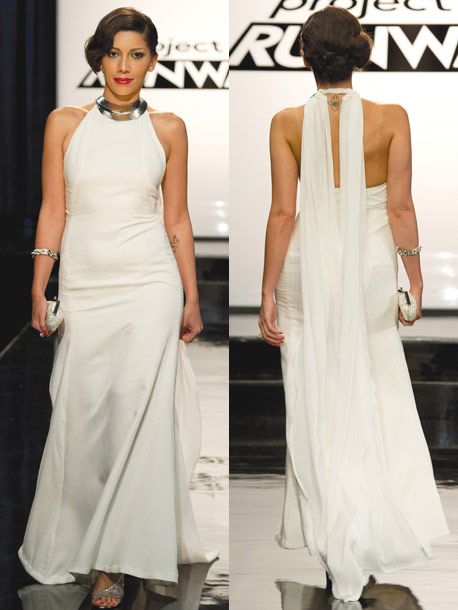 Gunnar Deatherage and Kooan Kosuke
I think this look made it into the top because Gunnar was smart enough to figure out ways to conceal flaws in the sewing and to know that Irina would look stunning in anything long and white. I have to believe that if the judges had seen that last-minute stitching up close, they would have felt very differently about this design. It was flattering and got a lot of praise for its strong, dramatic silhouette. Michael congratulated them on understanding Irina's aesthetic so well, and while she did complain every single second of the process, this is in line with a lot of what she designs herself. And this would be a very different look had the choker not made a miraculous appearance on the accessory wall.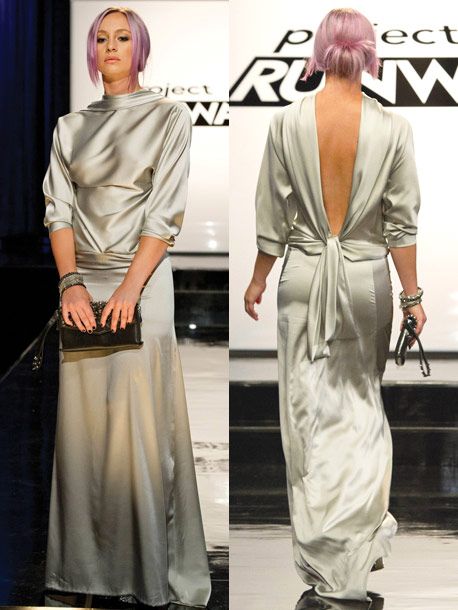 Melissa Fleis and Dmitry Sholokhov
I'm very surprised April's dress wasn't at least in contention for the win. Maybe the judges knew that Melissa's sensibilities would mesh really nicely with Dmitry's, and so they set the bar extra high? It's incredibly ambitious to work with silk charmeuse in a limited time frame, especially when you're making a gown. But it paid off — the fabric looked gorgeous, and it wasn't a stretch to think about April walking straight off the runway and onto a red carpet (a lot of that is due to the styling, too, which I loved except for the jogger's bun in her hair). I'll admit that the dress is a little more flattering on April in pictures than it was on the runway, but still — tell me again how this was somehow worse than Gunnar and Kooan's dress?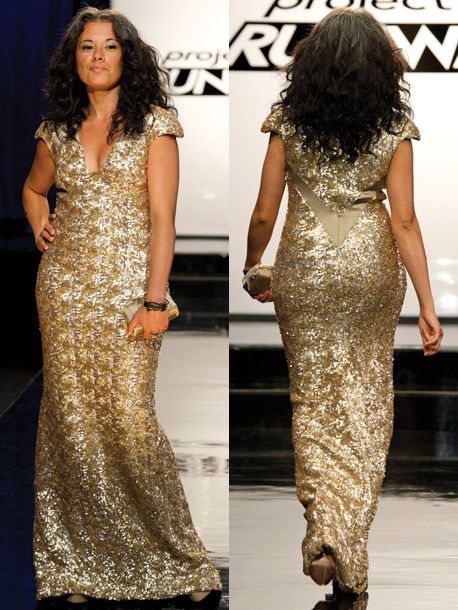 Nathan McDonald and Sonjia Williams 
This dress looked a bit better on the runway than it did in pictures — there are some minor fit issues up close — but it's incredibly striking regardless. It pulls off sequins and metallics without reading as overly flashy or cheap, and the sheer detailing is really tastefully done. To me, this was a stronger look than Gunnar and Kooan's, too. Based on what we saw in the workroom, it seems like Nathan and Sonjia didn't do much to alter the fabric, which I know the judges frown upon. Perhaps that's what kept this dress out of the top.