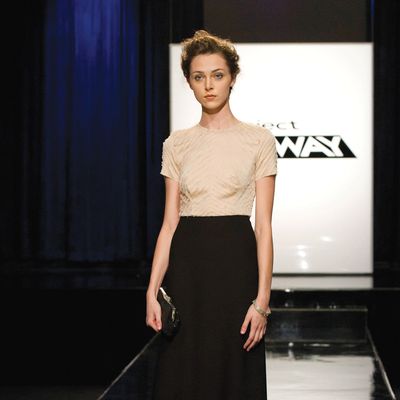 To start, I offer you the only Nina Garcia gif you'll ever need.
Moving on: It's down to business right away as Heidi mocks the designers' dark under-eye circles, then tells them they're about to see what's "in store" for them. They head off to meet Tim at Lord & Taylor (which is, in fact, a store, and they're in it!). Lord & Taylor president Bonnie Brooks is waiting for them, surrounded by nine mannequins wearing dresses designed by someone from a past season of the show. The designers are tasked with creating a cocktail or evening dress that fits with the collection, while still — wait for it — being true to their aesthetic; the winning dress will be sold at the flagship store and online, so the designers have to consider the cost of putting their look into production as well. (Sidenote: Nick Verreos has an interesting description of his contribution to the collection here, as well as pictures of the other dresses in the line.)
Dmitry is excited about the scope of the challenge: "You are designing for the United States!" Meanwhile, Gunnar immediately begins talking about how this challenge was made for him, because he really knows what women want, and he really knows Lord & Taylor. I found his excitability more insufferable at the beginning of the season, but now I've realized that he's only 22, and it's not like he's the first 22-year-old ever to act like a know-it-all before his time. Elena is immediately disappointed that she won't be able to make "something elaborate," while Melissa (rocking back-combed hair; get it, girl), brainstorms ways to create a look that's classic but still her. And Christopher looks at the nine mannequins, notes that there are seven cocktail dresses and two gowns, and, after deciding to make a gown of his own, announces, "I'm going to try to make the best gown ever!" And then: "I sound like a tool."
At this point I probably sound like a Tim Gunn lionizer, but he's even more compassionate than usual this season, right? He makes the perfect sympathy face while listening to Sonjia talk about how scared she is to be on the bottom again, and when Christopher doubts his design, Tim concernedly says, "Tell me about your iffiness!" When Elena bursts into tears over how angry she is that the challenge doesn't allow her to showcase her skills (she's too high-end and couture to create designs that are geared toward mass production), he doesn't roll his eyes the way I most definitely would; instead, he hears her out, and then very kindly encourages her to consider the bridge line so that she can successfully scale her designs down.
And speaking of compassion, Gunnar is surprisingly nice to Elena, too. He takes her to the hall outside the workroom and tells her, "This [crying  girl] is not the tough bitch we all want to see." He also wins sweetness points for saying to Fabio, "When I get home, I want to make you a dress." Maybe it's just that he seems harmless after Ven's horrible antics last week, but Gunnar is growing on me.
Once it's time to head for the runway, the workroom's still a total mess. Melissa's still sewing, and Sonjia panics when she can't actually get the dress onto her model, then starts sobbing as she watches Elena try to help the model pull it down. (It's properly tragic, but more than a tiny bit reminiscent of Ross Geller trying to get his leather pants on.) Still, everyone's model makes it down the runway fully clothed and without "any total train wrecks," as Heidi puts it.
Christopher, Fabio, Melissa, and Elena end up in the top four; Elena is so excited that she bursts into tears, which would be more endearing had she not spent the rest of the episode making sure everyone knew exactly how tragically misunderstood she is. Christopher gets the win, but not before the judges hammer home that they'd rather not see another shredded silk chiffon look from him this season. Alicia and Gunnar are the bottom two, but they're both safe; no one goes home this week. It's tempting to chalk this up to the success of the designers or the kindness of the judges; in reality, it's most likely because two designers quit early in the season. Still, it's better to flesh out the season with a no-elimination episode than a clip show, right?
Click through the slideshow to see all of this week's looks, and to start thinking seriously about who the final three might be! I'm still undecided, but I'm hoping Dmitry and Melissa make the cut.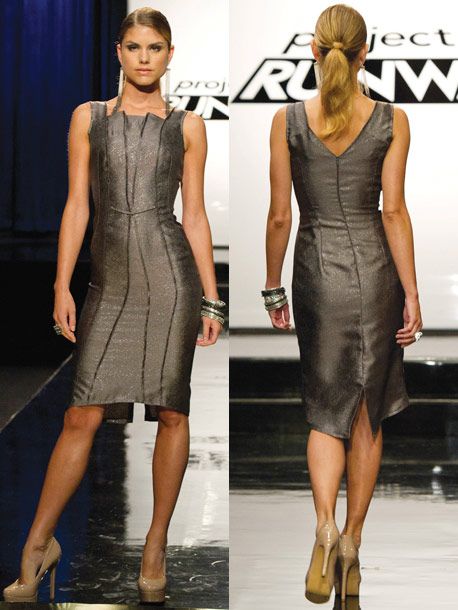 Dmitry Sholokhov
As soon as he was told he was safe, Dmitry asked, "Why am I safe in the designer lounge? Why?" Dmitry, I can't figure it out either. It seems like any episode now, the judges are going to turn on Dmitry and demand to know why he's been doing "the same thing every week," but what he's been doing is consistently churning out simple, pretty, well-executed looks. As he said himself this week, it's easy to use embellishments and ruffles and bows; it's much harder to make something simple look great. That includes this week's look, which deserved a spot in the top, or quite possibly the win – it's an interesting fabric and it's well constructed, and the seams make it more youthful.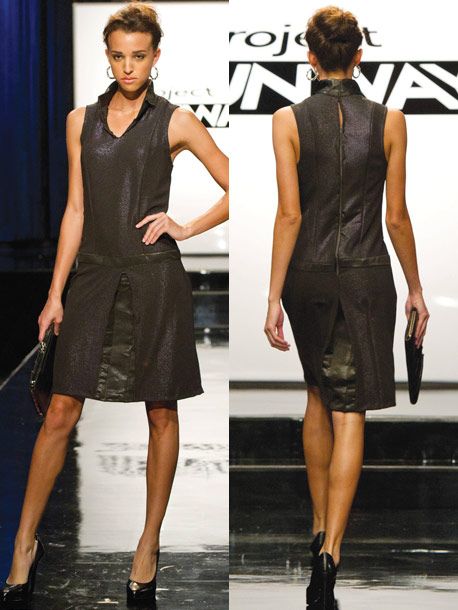 Alicia Hardesty – Bottom Two
The exchange between Michael and Heidi that took place during Alicia's judging was great. After Alicia said she wasn't really comfortable doing traditionally feminine looks, Heidi said she didn't get it, then turned to Michael and said, "Can't you [just] do anything? Then put your twist to it?" And he responded, in perfect Michael deadpan, "Don't call me for a ball gown." I didn't think this look worked as an evening dress – the box pleat in the crotch is extremely unflattering – but Alicia's initial inspiration really interested me, and I continue to root for her.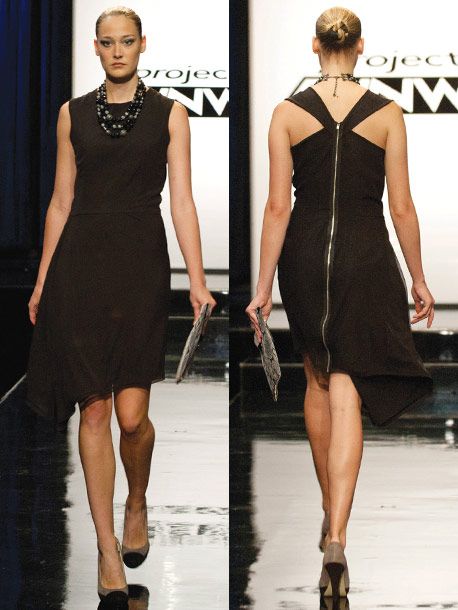 Fabio Costa – Top Four
The dimension between the stretch crepe and stretch tulle in Fabio's dress is really nice, and the construction is impeccable, but I wasn't as enamored with the look as the judges were. It seemed a little too simple to fit in with the rest of the pieces in the Lord & Taylor collection. I do agree with Heidi that this look would work well for a lot of women, but Michael pointed out that the exposed zipper is a bit of a crutch, and I agree – it's also not really "on trend" anymore. It's a fine dress, and I'm glad to see Fabio continuing to do well in these recent episodes, but this piece wasn't a standout for me.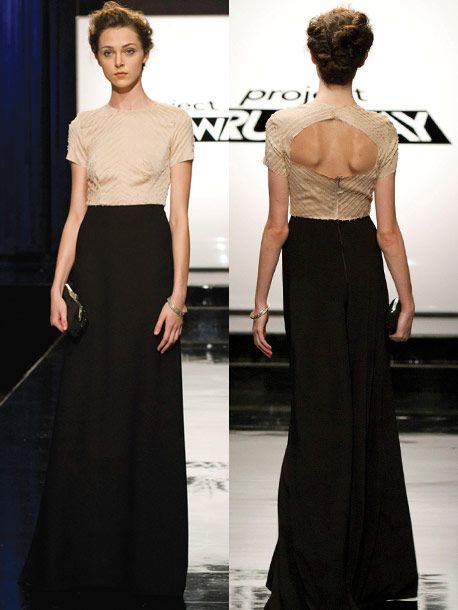 Christopher Palu – Winner
Distressed silk chiffon and the interplay of hard and soft have been Christopher's go-tos so far this season, and while I agree with the judges that I don't need to see any more shredded skirts or blouses from him, I thought this was a strong look. Michael praised it for being a gown that's not a red-carpet cliché – it's classy instead of splashy – and Bonnie Brooks called it a "beautiful marriage of lightness and strength." Nina pointed out that this is a dress that wouldn't work on many people (while complimenting how adept Christopher's become at fitting and styling his current model, which leads me to wonder if there'll be a model shakeup this season), but thought it would be a strong addition to the Lord & Taylor collection regardless.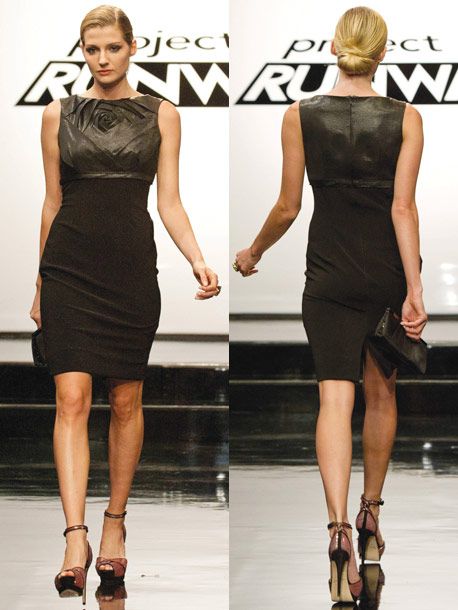 Ven Budhu
Ven assured Tim that this challenge wouldn't be an issue for him because he's used to designing with the customer in mind! He does it all the time! What I want to know is where Ven finds so many women who want dresses with constructed flowers. I'd also like to know why Ven hasn't been called out on this yet. If Gunnar can be in the bottom for being bland and repetitive, why not Ven? I think Christopher described it best when he said he could see a 13-year-old girl wearing Ven's design on Christmas morning.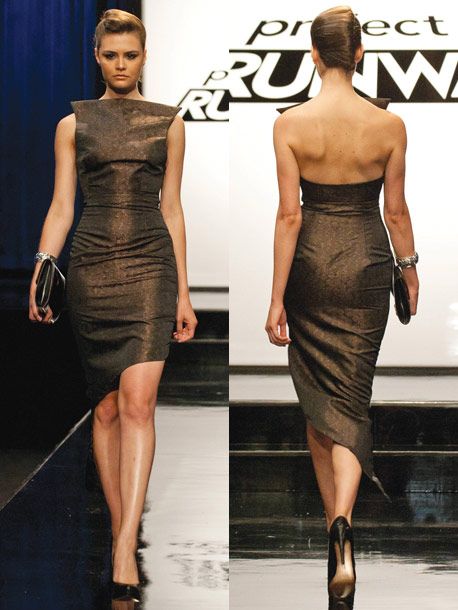 Melissa Fleis – Top Four
Melissa scrapped her entire dress after the model fitting, so it's amazing that her model walked down the runway wearing anything. The choice of fabric was spot-on, since brocade is big this fall, and as Michael said, the bronze was a good way to bridge the gap between women who don't want to wear black but don't want something overly colorful, either. The neck is definitely unique, but the hemline was a huge misstep, and there were some fit issues with her model (which leads me to think there'd likely be fit issues with women who aren't model-sized as well).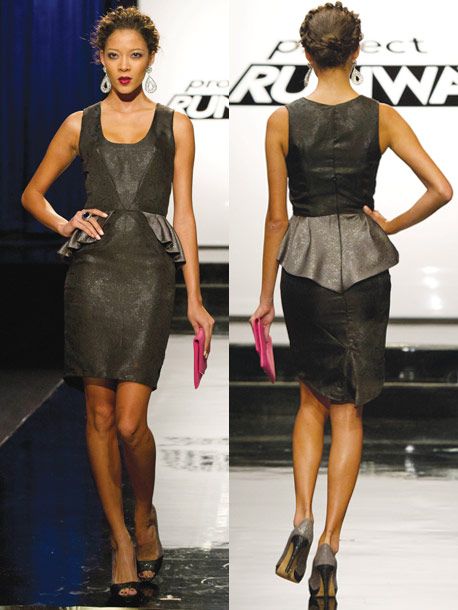 Sonjia Williams
Sonjia's struggle this week was truly painful to watch, so I'm relieved she made it through safely; hopefully she'll get a bit of her confidence back now. The dress isn't the fiasco I'd assumed it would be while watching her cry over it, but it's not great, either. It's very 80s, which isn't a look I associate with present-day Lord & Taylor, and while the peplum flatters her model, it seems a little too fussy.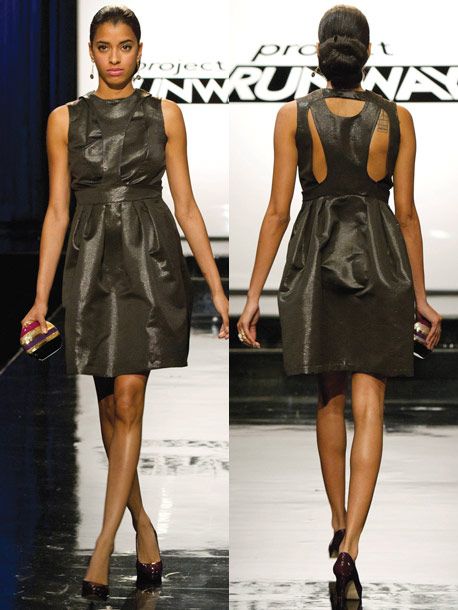 Elena Slivnyak – Top Four
Perhaps the best moment of Elena's judging was when she burst into tears and Heidi waited a minute before saying, with legitimate confusion, "Why are you reacting that way?" Michael praised the look for being a strong marriage of art and commerce, since Elena was able to tamper with her normal aesthetic until it became something that was suitable for mass production, and liked that she found the ying and yang of the design and, ultimately, the girl wearing it. "She's nice, but she's nasty!"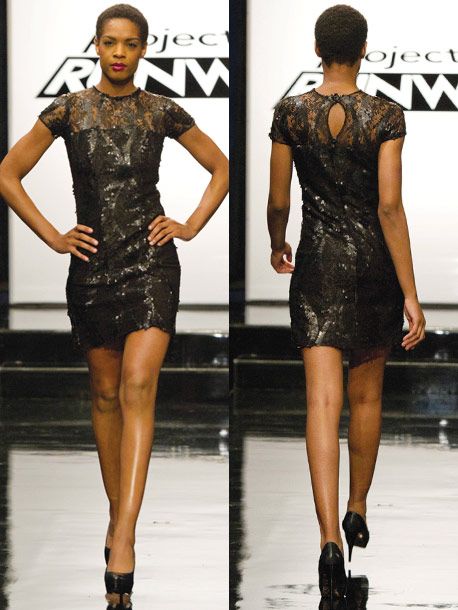 Gunnar Deatherage – Bottom Two
Gunnar was furious about being in the bottom, and I can understand his frustration to an extent, since the look is well-made and flatters his model. That said, the judges' complaints that they've seen this dress is spot on; it's got a Forever 21 look to it and skews way too young for Lord & Taylor shoppers. Michael called it "blah" and said he believed Gunnar to be capable of more; I agree, but it has to sting to stand there while Heidi talks about how much she loves your dress and how she'd definitely wear it while you're still at risk of going home.