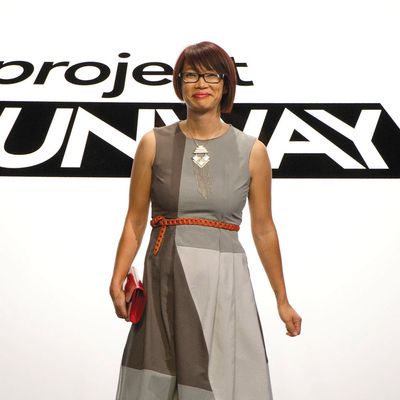 So much of this episode centered around the argument that it's simply too hard to design clothes for a plus-sized woman when you're accustomed to dressing models, and that baffles me. Maybe that's because every time I hear it, I think about my mom, who sews for fun and made clothes for our family and my dolls when I was growing up. My point is that if my mom — who doesn't have the benefit of Ven's F.I.T. education or his uninterrupted years in which to design and sew full-time —  can just as easily make clothes for a teenage boy or a Cabbage Patch Kid, I don't know why Ven had to be insufferable about designing up a few sizes.
But I've gotten ahead of myself.
When the designers show up at the runway, Heidi announces that they have new clients, and when a group of men and women traipse out, Elena says suspiciously, "They don't look like they have anything to do with any kind of fashion." Don't worry, Elena! They're not even the real clients; they're FRIENDS of the real clients (as reality television fake-outs go, this was pretty pointless, and that's saying something). Heidi explains that each person on the runway has a friend, and the designers will give the friend a new look. "Are you willing to help them out?" Heidi asks.  Dmitry immediately responds, "Do we have a choice?"
Back in the workroom, Tim sends the clients in, after telling the designers that clients were randomly assigned. Ven claimed on Twitter that there was no way  the assignments were actually random and called this unfair. He's probably right that production made specific assignments, but it saves the clients the indignity of a schoolyard-style pick, and it's reality television. Of course it's not fair. Sonjia is paired with a client who wears running shorts and hoodies every single day, Fabio's client hates skirts and loves blending in, and Gunnar (of all people!) interacts with his client so kindly she cries because she's happy. Ven and his client Terri … we'll get to that.
After a trip to Mood, the designers and clients meet with L'Oreal Paris's Johnny Lavoy to plan the clients' hair makeovers — highlights (no pun intended) include Fabio's client lopping off her ponytail and Johnny's claim that "Nothing's hotter than red hair!" — and then it's back to work. At one point, Sonjia absently asks if anyone has siblings, and Dmitry says, "I have a brother … I was a professional ballroom dancer. He was a professional hockey player." I would absolutely watch a television show about that.
Tim does a lap of the workroom, stopping for a conversation with Nathan about whether the dress with mesh and cutaways he's making for his musician client is too "vulgar" (Nathan reassures Tim that it's "not regular hooker mesh") before he gets to Ven, who proceeds to unleash. "When I first met my client, I was a little bit shocked." He tells Tim that she's plus-sized, and when Tim asks what size, he says 14 and laughs, before going on to say, "The before picture is definitely a nightmare." And she's old, too! When Tim asks how old, and Ven says she's around 40, Tim replies, "She's an old lady. NOT." Congratulations, Ven. You've driven Tim to "not." It gets worse when the clients come for fittings and Ven tries to find a belt that works while saying in his outdoor voice, over and over again, that he needs something bigger. Terri finally says, in the most dignified way possible, "You keep saying that. It's embarrassing." But of course, Ven doesn't stop.
There isn't a way to excuse or interpret or joke about Ven's behavior toward Terri. There's some comfort in how unacceptable the other designers find his behavior (Fabio says he'll never associate Ven with the words sophisticated, elegant, and refined again) and how much Twitter support Terri's been getting — Nina called her gorgeous, and Michael Costello from season eight said he'd love to make her a dress.
Then it's off to the runway, where Alice Temperley joins Heidi and Nina and Michael as this week's guest judge (this makes me sad, as I would rather Alice Temperley be home designing more lines for Target). Almost all of the clients seem happy with their looks, which makes for a fun runway, and Fabio, Dmitry, and Gunnar land on top. Michael points out that the good relationships each built with his client had a lot to do with this, but it's Fabio's win. Sonjia, Ven, and Nathan are on the bottom, and even though Heidi smacks down Ven's claim about how hard it is to design for "real women" by pointing out that all women are real, Nathan goes home.
When Tim says good-bye to Nathan, he says how sad it is to be losing him both as a designer but also as a person with "profound qualities of character." He doesn't glare pointedly at Ven when he says this, but everyone knows what he's really talking about.
And now we're down to nine, and inching closer to Fashion Week! Click through the slideshow to see this week's looks. Is anyone still on Team Ven? Is Dmitry ever going to get the win he wants so badly?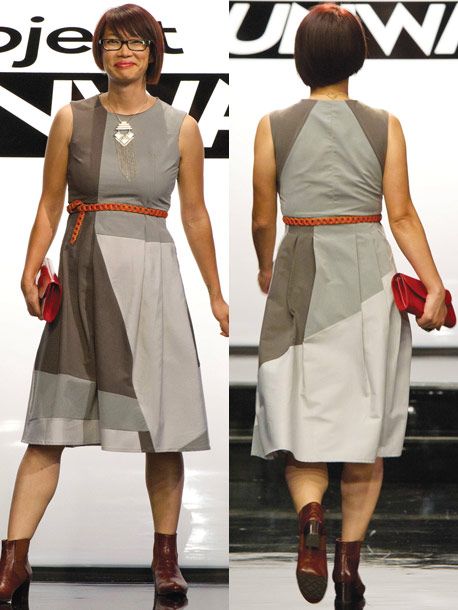 Fabio Costa - Winner
Fabio's goal was to do a feminine, classic silhouette that was also angular – a dress for girls who don't wear dresses – and this is his best design this season by far. Heidi tried to compliment the dichotomy of it by saying that it's like his client is "from the hood," but also wearing a dress, which I think was her way of saying that her demeanor doesn't automatically suggest "dress," but the dress still looked great. Nina called it phenomenal and loved the versatility, while Michael loved that it transformed his client while still being true to who she was. Alice complimented the cut and liked the grades and the pattern of the seam lines, but found the belt too fussy (for the record, I agree). It's also worth pointing out that Fabio wore a pretty slamming man-dress to judging.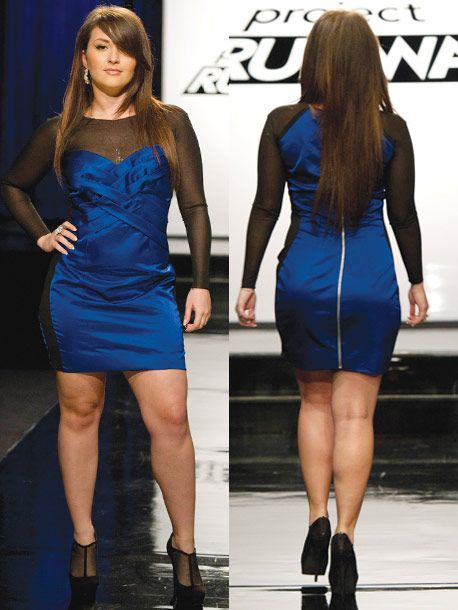 Nathan McDonald – Eliminated
Nathan was in a tough spot to begin with; while the other designers could focus on more typical workplace looks, his client was an aspiring singer who wanted something she could wear onstage. He talked her out of an exposed midriff, but gave in to enough of her other requests that the outfit spiraled into costume territory. Heidi said his client looks like a "hoochie mama," which confuses Alice – Michael has to clarify that it means "tart." Nina called the look ill-fitting, unfortunately colored, too short, and poorly styled (I can't decide if that was more or less humane than just saying she hated it) and Michael called it "every cliché combined." He specifically disliked the bodice, calling it "too prom," although that was the one detail I actually liked.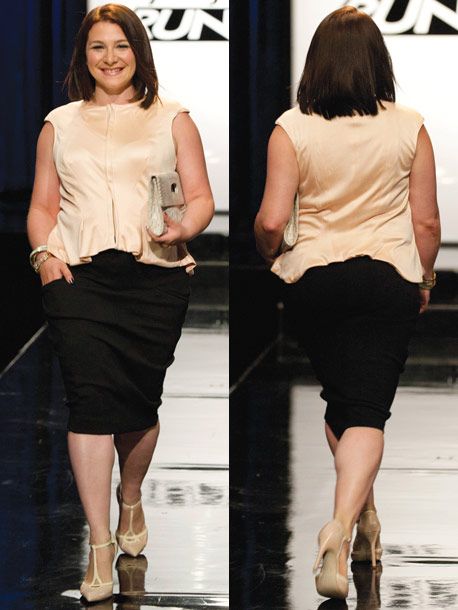 Elena Slivnyak 
As Dmitry watched Elena working with her client, he marveled, "This is the first time I see Elena is being nice to somebody!" And it's true – after her reign of terror last week, I'd her to terrorize her client, but she seemed to really enjoy the process. I'm not completely sure why she chose to make a high-waisted skirt when she knew from the outset that it wasn't the most flattering cut for her client. Why not figure out a cohesive look where one piece isn't compensating for or concealing another? Despite that, though, her client seemed confident on the runway and happy with the overall result, and Elena's safe for another week.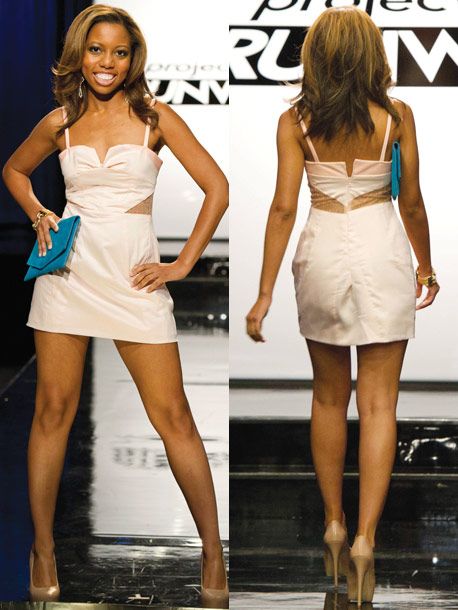 Alicia Hardesty 
Of all the things I thought I'd see Alicia make this season, a little pink cocktail dress was pretty far down on the list, so I give her credit for making something that was closer to her client's sensibilities than her own. Still, this isn't the most well-constructed piece of hers we've seen, and the lace doesn't really read as lace on the runway or in pictures. I'd assumed the lace parts were cutouts. As the number of designers dwindles, Alicia's going to have to start producing standout work soon, and I hope she can. I'm not sure what it is, but she's one of those designers that I'd like to see succeed.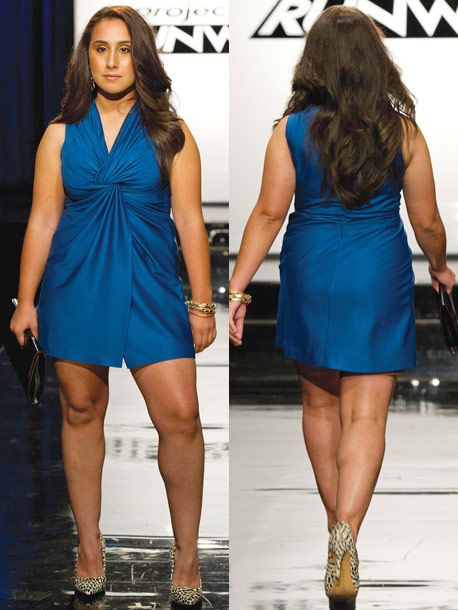 Sonjia Williams - Bottom Three
This is a major transition from the client's "before" pictures – she typically wears gym shorts and a hoodie wherever she goes – but it was much, much too short. Heidi liked the idea of the knot in the middle but thought it didn't work, and called the result  "slutty." Nina didn't think the look worked with the best of the client's body because it didn't show off her cleavage and because when you put a lot of fabric on someone who's very petite, they typically just look weighted down. According to Michael, the proportions are so off that between the draping and the knot in front, the client would've needed a chest "out to here" and a pregnant belly just to make it work. It's all valid criticism, but there's something to be said for how great the client seemed to feel in it (or how realistic the client's poker face was, I guess).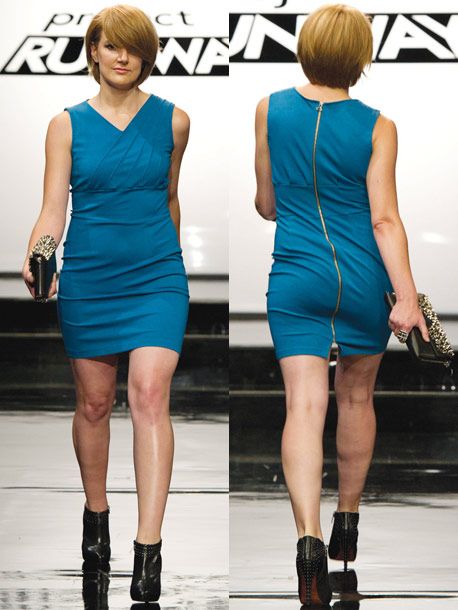 Dmitry Sholokhov - Top Three
Another almost-but-not-quite week for Dmitry, who's desperate for a win. I was really impressed by his desire to put his own aesthetic aside to work with the client and his recognition of the fact that doing so is maybe the most important part of design. Heidi asked his client if she had a boyfriend, and when she said yes, Heidi raised her eyebrows and said, "The way you look now, they're gonna be calling!" Michael complimented the fabric choice – Dmitry pointed out that it doesn't wrinkle and his client could basically sleep in it if she wanted to – and both Nina and Alice complimented the styling, which Dmitry seems to consistently get right. Hang in there, Dmitry! Maybe next week?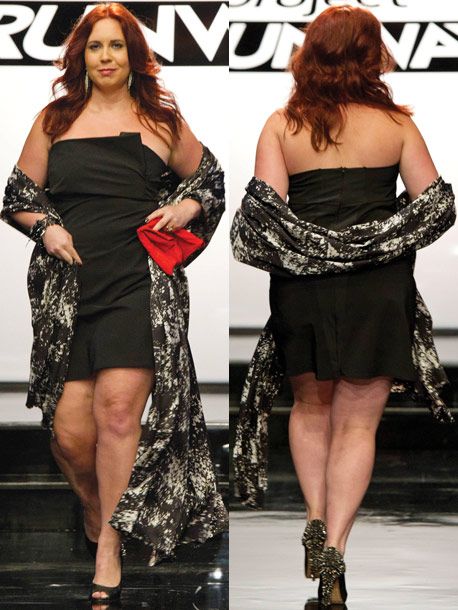 Melissa Fleis
Even in pictures, it's hard to get a sense of the dress with the enormous scarf/shawl in the way, and it's also a little surprising that Melissa didn't give her client more guidance about how best to show off the look (Christopher's client had similar issues). Heidi's actual feedback was, "I wish we could see the dress." As it is, it looks like her client is wandering around with last night's party dress still on and a throw blanket wrapped around her shoulders. But hey, we all wander around like that sometimes. And Melissa had immunity, so in the end, no real harm done.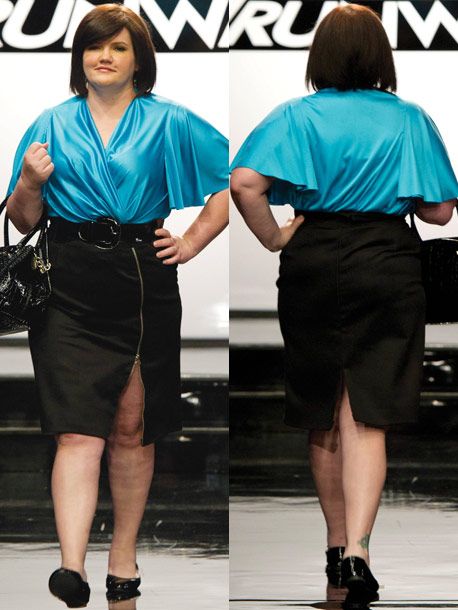 Ven Budhu - Bottom Three
What I don't understand is how Ven could sit and watch this come down the runway and say, "I did a great job," because he didn't. Heidi thought that the dress looked like it just got thrown onto her, and Micheal thought the blue top looked like a smock cut in two. The judges all agreed that the top and bottom don't go together at all, and Alice thought the top was particularly unfortunate because the color isn't appropriate for an office and the fabric is overly shiny and seems uncomfortable. And while none of the judges knew exactly how poorly Ven had treated Terri, they all agreed that he didn't take enough time getting to know and connect with his client. Heidi told Ven, "We like Terri, but we don't like your outfit." I can only speak for myself, Ven, but I don't like your outfit, and I don't like you.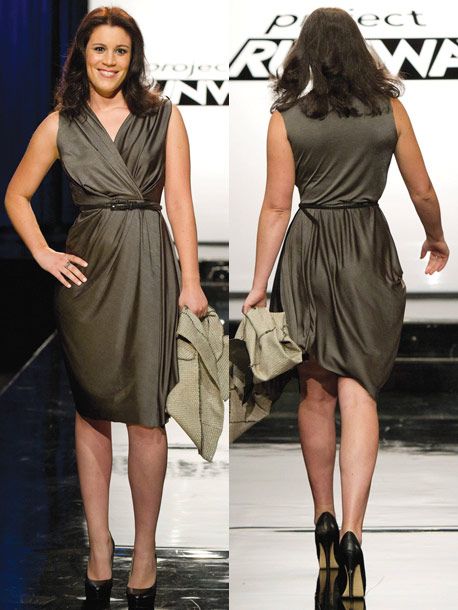 Christopher Palu
The sad thing about Christopher's look is that his model set foot on the runway and immediately took it off. That's great as a statement of how much she loved the dress, but Christopher said he'd spent eight and a half hours on the jacket, and it's a waste to see it balled up in her hand like that. It's a strong look, but all of Christopher's dress and jacket designs have begun to run together in my mind, and I'm worried that the judges are going to start criticizing him for a lack of versatility. Sidebar: The best Christopher moment of all came when the judges came into the workroom the morning of the runway show and Christopher asked, deadpan, why the elves hadn't come in the night to finish his sewing.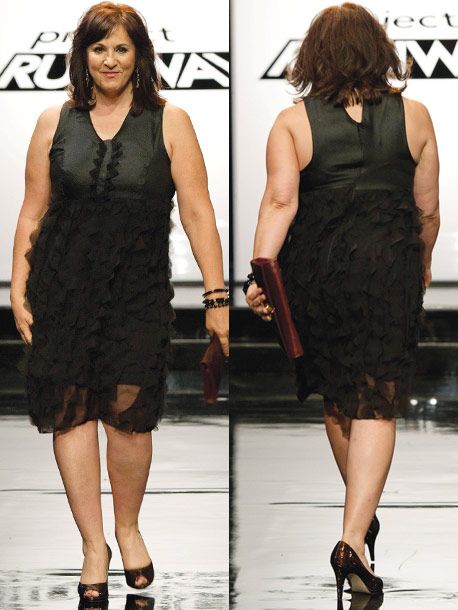 Gunnar Deatherage - Top Three
Gunnar's relationship with his client was nearly enough to make up for his jackassery earlier in the season – he seemed truly passionate about designing for everyday women, which made this dress feel special. The technique of cutting the chiffon squares, assembling the pattern, and then sewing them back onto a jersey under layer made for a dress that was beautiful (and used his beloved silk chiffon!) while still being really comfortable and wearable. The judges all loved the way she walked down the runway, and Heidi went so far as to say she could teach Gisele how to move. Michael said that the look "unlocked" his client, which is high praise, but it's not an overstatement. The only real criticism came from Nina, who thought the dress should've been a little lower-cut, because "Why not SHOW them if you HAVE them?" (Emphasis hers.)