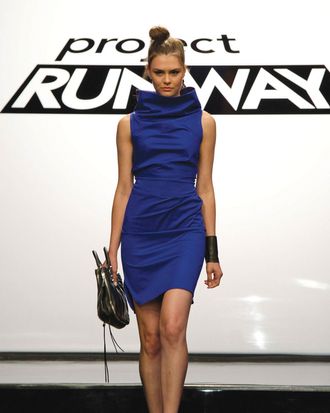 Nothing good ever happens when Heidi comes out swinging the button bag, and this week is no exception. She calls for Nina to join her (using her full name, which makes me wonder if Heidi just calls her Nina Garcia under all circumstances), and Nina explains that they'll be designing a fashion capsule collection for Marie Claire's new section, @Work. She says that the collection should be geared toward real-world women, but still editorial, and the winning team's work will appear in the magazine.
Sonjia is called up to be the first to choose a teammate (there aren't actual team leaders, which seems odd) since she won last week's immunity, and Nathan's button is drawn to be the first member of the opposing team. Everyone sulks — Gunnar says he'd rather eat dirt than work with Elena, and Ven says he'd rather kill himself than work with anyone at all — and then chooses teams schoolyard-style.
Team 5 is Nathan, Fabio, Christopher, Gunnar, and Ven, and Team 6 is Sonjia, Elena, Melissa, Dmitry, Alicia, and Raul. Off to the workroom to sketch! "Have a lot of fun!" Nina calls after them. Oh, Nina. You sadist.
Team 6 is a disaster before the teams even make it to Mood. Raul is terrified of going home (again) and insists on following his own aesthetic rather than working hard to come up with a more cohesive group of looks. Understandably, his teammates don't have much faith in his abilities, and he's not even able to describe what he's trying to do so they can help. Things are a little more harmonious over on Team 5, where Gunnar has tentatively decided to do whatever he wants while ignoring his team instead of arguing with them.
There's a sad, brief moment of silence when Christopher finds one of Kooan's old combs on the floor, and then Tim comes by to look in on the designers' work. First off, he critiques their response to him entering the room, calling it "lackluster." He's positive about Team 6's collection so far, but bewildered by Elena, who nearly yells about how much she hates what she's making because it's plain, boring, and matronly. Tim says he doesn't think it's matronly and, look, if Tim Gunn's not calling it matronly, it's not matronly. He loves calling things matronly.
Tim checks on Team 6 (nicknamed the Chiffonsies by Elena, for their habitual use of silk chiffon) and is much less pleased. He looks at the skirt Gunnar's working on and says, "That says to me … olé! It says bullfighter. It looks costume-y. How do we uncostume it?" Gunnar immediately begins making a new dress.
Elena's reign of terror gets worse over at the Marie Claire offices for the photo shoot, which the designers are largely in charge of. She yells at her team, she yells at the other team, and then she tries yelling at the hair stylist about curling a model's hair too slowly, to which he responds, "You want to take [the curlers] out now? You can take them out now and they'll look like crap." Then she briefly stops yelling, only to start again when Melissa, who was clearly mortified, calmly asks her to stop freaking out. Fortunately, Dmitry provides some much-needed levity by referring to Ven as a "one wing monkey" when he meant "one trick pony."
Then it's down to the runway, with Joanna Coles as guest judge. After some debating — the score cards had the teams in a numerical tie — Team 6 is declared victorious, and Melissa the winning designer. The bottom two are Gunnar and, because you're vulnerable for elimination even if your team wins, Raul. It's Raul who is auf'd for the second time, and he marks the occasion by storming into the workroom and saying, "I hate your ass," to Elena. While I am not now (nor will I likely ever be) trying to defend Elena's behavior, it's sill a particularly disappointing way for him to go when contrasted with Buffi's sweet and gracious departure last week. Stay classy, Raul!
We're down to the top ten! Click through the slideshow to see all of this week's looks. Did you love Fabio's dress as much as Michael did? And with Raul gone, who's next on the chopping block?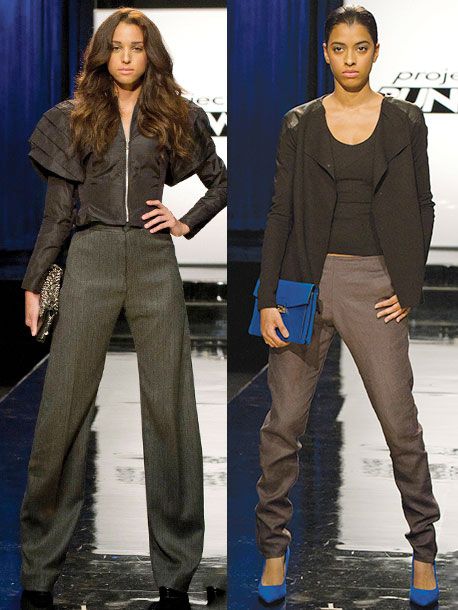 Elena Slivnyak and Alicia Hardesty (Team 6)
I'm glad Alicia was able to focus on pants for this challenge, since that's clearly an area in which she excels. The tailoring and fit, especially for two pairs of pants sewn in less than twelve hours, are commendable. And the lighter of the two jackets is a nice departure from Elena's usual fare, especially since the judges don't seem to have much tolerance left for the massive shoulders she's so fond of — Michael Kors went so far as to accuse her of being "obsessed with the shoulder." It's nice to see that she can do something that's a little more wearable and commercial; at the same time, I think she only changed the design of the second jacket after realizing she'd left a bag of fabric behind at Mood.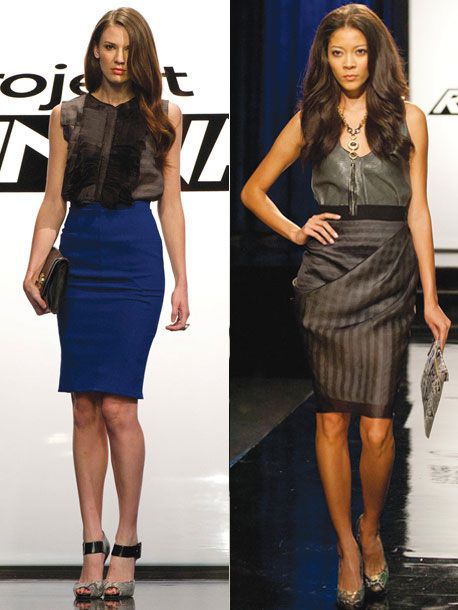 Sonjia Williams and Raul Osario (Team 6) – Raul Osario, eliminated
Raul's insistence on showing off his own aesthetic was his undoing. It's unfortunate, because if he'd been willing to work with Sonjia a bit more, maybe he could've kept it together for another week. Instead, he wound up with what Michael described as one boring and one unattractive blouse. In particular, the ruffled blouse is overwhelming and odd in general, but seems particularly out of place in an office. Considering how little tailoring he had to do to get two blouses done, the end result is even sadder. On the other hand, Sonjia's skirts were really well done — the pencil skirt is classic and well-executed, and the draped skirt has a lot going on but still looks cohesive and polished.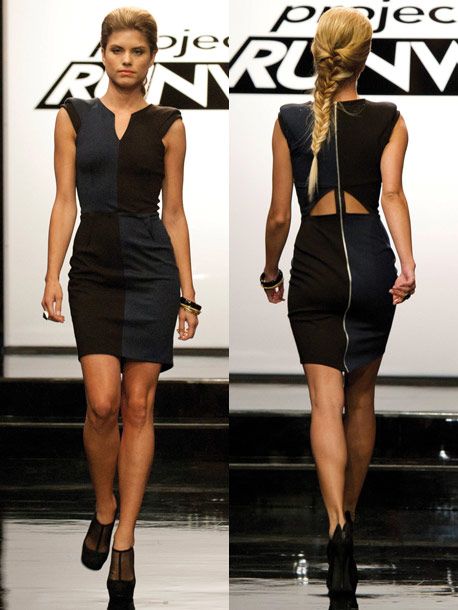 Dmitry Sholokhov (Team 6) 
This was a really strong dress for Dmitry, and I think he would've had a shot at the win, but the peek-a-boo back was controversial among the judges, some of whom felt like it would look unprofessional in an office setting. Still, it's great to see navy and black used successfully together, and the result was clever and sophisticated. Nina particularly liked the unconventional detailing around the neck. I worry a bit that the judges are going to start telling Dmitry he's not "doing anything new," when what he's doing is producing consistent, wearable looks every week.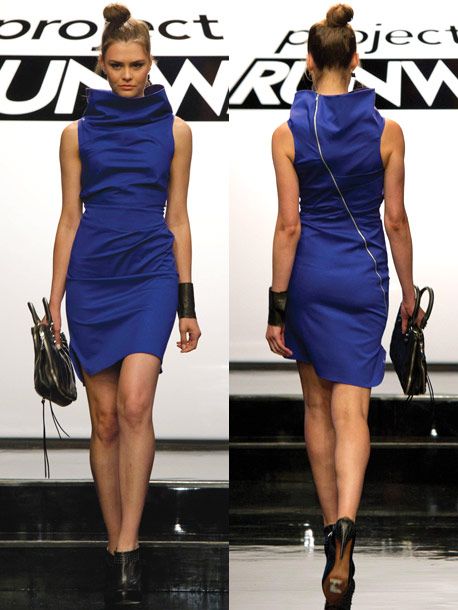 Melissa Fleis (Team 6) – winner
I have NO idea what office this is well-suited for (except, maybe, the offices of the Marie Claire @Work editorial staff), but the judges loved it, and it definitely looked the best in photographs. Melissa got particular praise for working in a bold, vibrant color (I'm pretty sure this is the first thing we've seen from her all season that isn't at least partially black). Michael really liked that it makes a strong statement while still being believable in a workplace setting. Melissa also deserves a huge amount of credit for trying to keep Elena's rage at bay.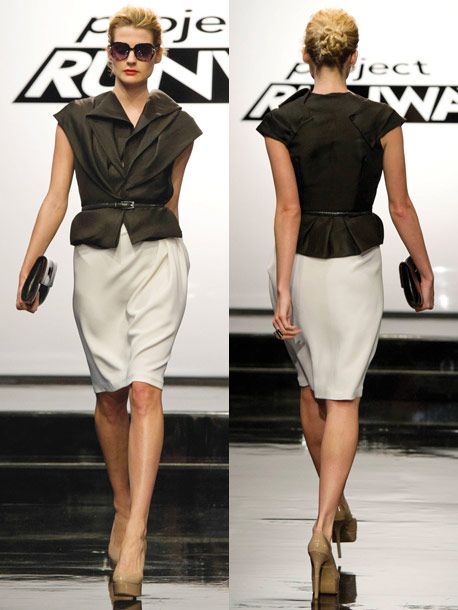 Ven Budhu (Team 5)
Ven keeps doing many variations on one single theme. They continue to be well-constructed, and I continue being uninterested in them. I do, however, now have a theory that Ven's aesthetic was born from his incessant tracing of the cover of the VHS version of Beauty and the Beast as a kid (during the casting special, he talked about this as something he'd do over and over for hours). All I'm saying, is look at the rose on the cover. Then look at the shape of every blouse or dress Ven's made this season. Right?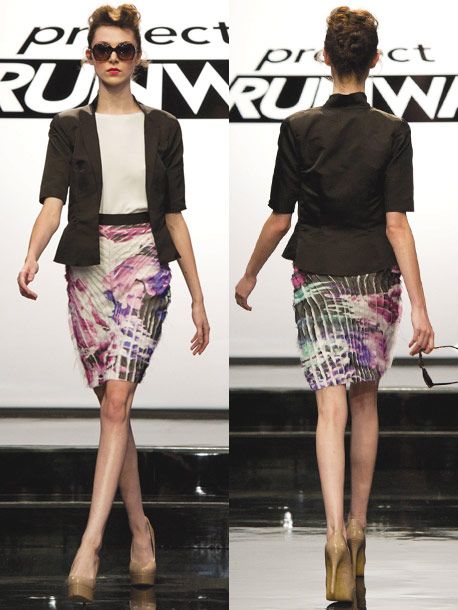 Christopher Palu (Team 5)
I'm noticing Christopher's fondness for skirts like these, but he continues finding ways to tweak them to meet the needs of a challenge. Nina loved the skirt, especially because it was able to take the print everyone was working with — which the judges criticized as being older and more "matronly" — and manipulate it into something interesting. It's also impressive that Christopher is consistently able to crank out designs with multiple components (like this week's skirt, blouse, and blazer). That said, I'm confused about why his model had a Flock of Seagulls haircut this week.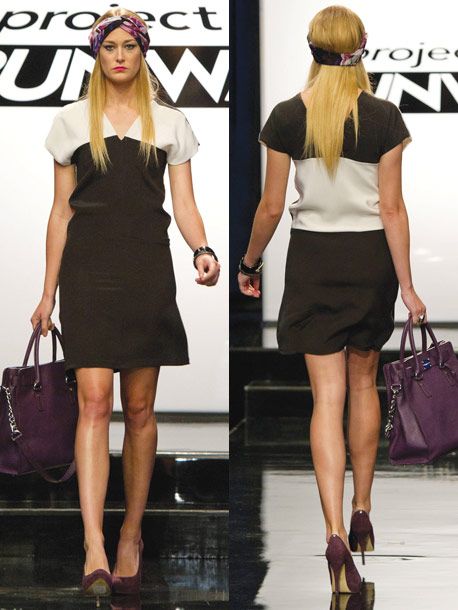 Fabio Costa Palu (Team 5)
One of my favorite moments of this episode was the look on Fabio's face when Michael said, "Well, I don't know why you put her in a turban." I'm imagining Fabio was surprised because last week during judging, when Fabio was wearing a head wrap and a giant shirt and three strands of rope, Michael said he loved the way he dressed, and he should be dressing his models more like him. I wasn't as bowled over by this look as the judges were — I'm guessing it reads better in person —but I was pleased to see him do well in response to his critique last week.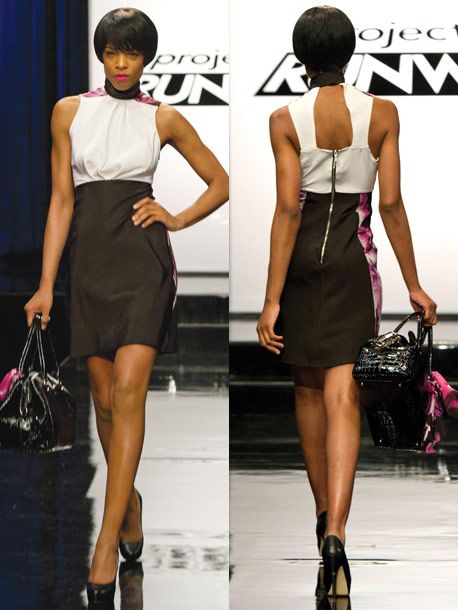 Gunnar Deatherage (Team 5)
I want to thank Gunnar for this design, because it led to Joanna Coles describing the ill-fitting top as "two puppies wrestling in a sack." (Heidi tried to do her one better by describing it as "a soufflé that went flat," but we all know Joanna is the true winner here.) Gunnar's main strategy in defending himself on the runway was, "At least my design has my name on it!" Which would be more compelling if it made sense.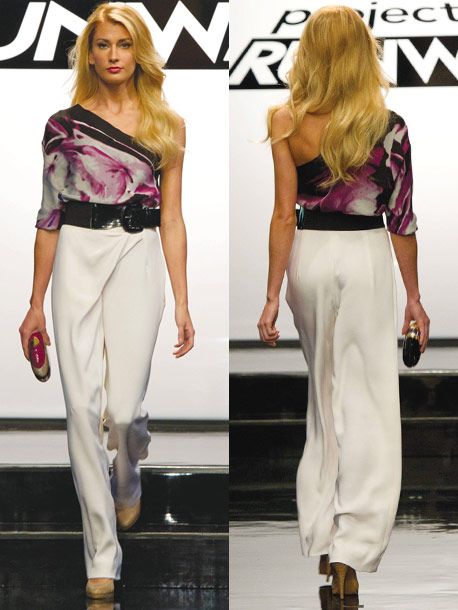 Nathan McDonald (Team 5)
When Nathan's look came down the runway, he noticed the clothes catching Nina's eye; unfortunately, it wasn't in a good way. She took issue with the fabric, the construction of the pantsuit, and how unflattering they were on the model. She also criticized the origami pleat being used to hide design problems, even though Nathan claims the pleat was intentional all along. Heidi made the point that this could potentially be an older look for an older woman, but that might be a stretch, too. Ultimately, a lot of what went wrong here was fabric-related, and I think it was Nathan's look that prompted Michael to say, "The most important thing that we do first is fabric. Guys! Gorgeous fabrics everywhere! Pick things that you can achieve!"