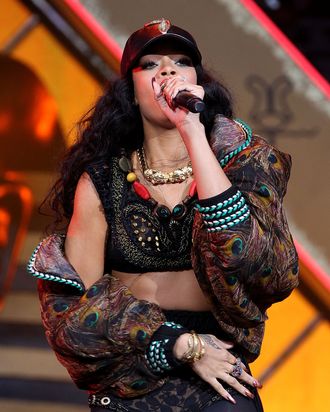 Photo: Danny Martindale/Getty Images
British cable channel Sky Living airs the premiere of the singer's Styled to Rock fashion competition/reality TV show tomorrow night. Rihanna signed on as executive producer of the show earlier this year, so she's only on-screen every now and then to offer insightful advice. Designer Henry Holland and former Girls Aloud (that's a great British girl band, for folks not in the know) member Nicola Roberts picked up the full-time hosting and judging reins, alongside one of Rihanna's stylists. Each episode will also feature a challenge for the contestants tailored to a British celebrity.
Rihanna told British Vogue, "We're hoping to find the next superstar designer to dress superstars — someone like Vivienne Westwood or Alexander McQueen." A look at the success of other fashion reality-television competition winners might suggest otherwise. The show's winner (whomever it may be) did design this fun concert look for Rihanna — worn for her performance at a music festival in London earlier this summer — so, if you're one of those detective-types, you can follow every week and take guesses as to whose aesthetic matches the outfit's clashing animal prints.
Full disclosure: One of the contestants is a friend of mine — but despite my badgering, she's yet to tell me anything.