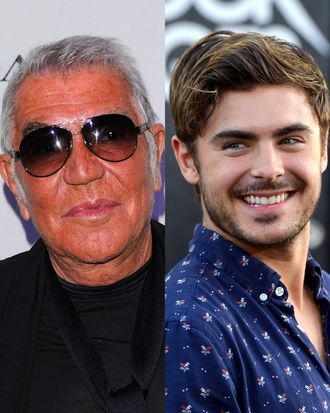 Friends forever: Roberto and Zac.
Photo: Andrew H. Walker/Getty Images for Andy Valmorbida, Frazer Harrison/Getty Images
July was "a special month" for Roberto Cavalli, and he wrote a lengthy blog post all about it. (Just ignore the serious stuff about tax laws at the beginning and scroll down to where he starts talking about his holidays.) Cavalli spent most of the month on his yacht, floating merrily between Monte Carlo and Saint Tropez. That's nice enough, for starters, but more importantly, the vacation time meant he got to meet some "new, young, interesting and special friends."
Twilight's Kellan Lutz and his girlfriend joined Roberto for a while (he "[appreciated] their education, simplicity and sweetness"), as did Europop sensations Jedward. Best of all, though, Zac Efron jumped onboard for a few days — and the pair "formed a friendship, based on mutual respect, which is destined to last a long time!" They're sending text messages back and forth constantly, says Roberto, which must be just lovely for the both of them — or for the PR assistant Zac's tasked with dealing with Roberto in the aftermath of his Mediterranean break: "let's go ride on the scooters sometime, my treat? RC"  "sry am busy but ur so sweet robert xx zac :) :)"
There's no better way to honor their new bond than with saccharine teen-pop. So, here's a reimagining of a classic Zac and Roberto will no doubt have sung together while sunbathing and reading Tiger Beat together. Please do join in, because you know you know the tune:
… Trade my diffusion lines for a wish
Bold prints and fragrances for a kiss
I wasn't looking for this
Because my sunglasses are too dark, you see, I can barely see anything
But now you're in my way (my yacht's not that big)
Your bemused stare was holding
Ripped jeans, skin was showing (but that's okay, I'll design you a new pair)
Hot night, a sea breeze was blowing
Where you think you're going, baby? (remember, we're on a boat)

Hey, I just met you (on my yacht),
and this is crazy (duh)
But here's my number, so call text me maybe.

It's hard to look right,
at you baby (because I think of your scenes in High School Musical and get the giggles)
But here's my number, so call text me maybe. PLEASE TEXT ME ZAC.