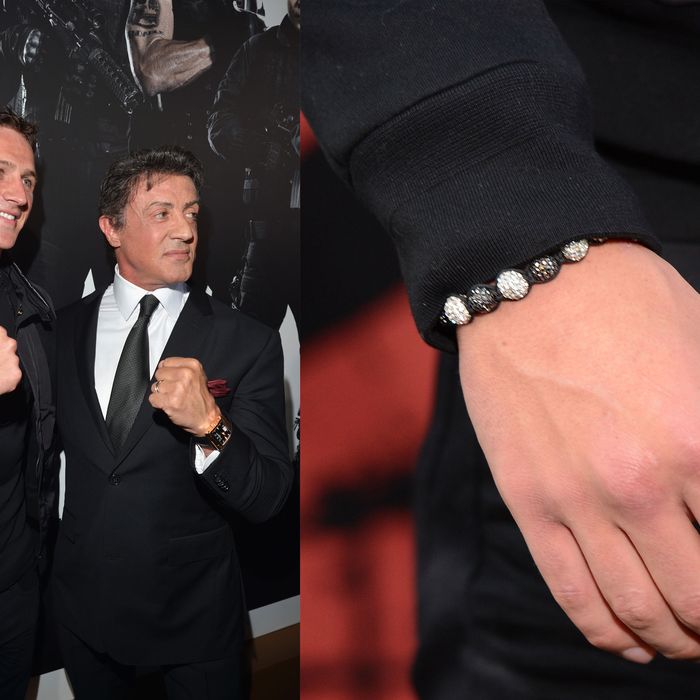 Lochte, Stallone, and sparkly bracelet.
Photo: Lester Cohen/WireImage, Jason Merritt/Getty Images
So much Ryan Lochte news to catch up on today! First off, he got to go to the Hollywood premiere of The Expendables 2 last night, where he looked quite understated in his black outfit — until he made a fist pose with Sylvester Stallone and revealed a delicate bracelet strung with sparkly beads (shown). Apparently his fondness for wanton bedazzling doesn't scare away Karlie Kloss, though, who told Style.com that she "will walk in his show for sure" when his hypothetical fashion line happens. (They met on this Vogue shoot, and they're both Virgos, so now they text all the time, obviously.)
Meanwhile, it turns out Lochte has already shot his 90210 guest spot — so quick, he is — although it was a bit rocky, according to Us Weekly's report:
"It was my first acting gig and I was a little nervous going on set," Lochte said. "I kind of messed up my lines the first couple of takes, but after talking with the cast and them helping me out, I started nailing it towards the end and it felt normal."

"They knew it was my first time, so they wanted to make it as easy as possible," the swimmer added. Lochte will play a resort guest at a hotel where Naomi Clark (McCord) and Max Miller (Zuckerman) try to repair their relationship.
Operative word from this quote: "normal"! As in, he might do this "acting" thing with frequency. And last but not least, he was on Fashion Police today! He tweeted a photo of himself on set this morning, and then he and Joan peed in a fountain afterwards. Keep up the good work, Ryan. We still care about you.