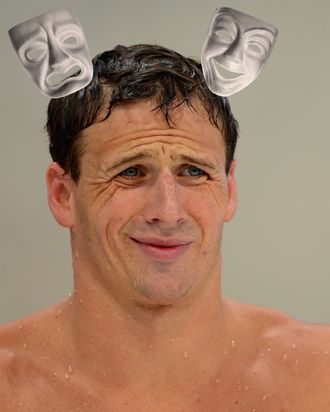 Ryan Lochte, budding thespian.
Photo: Michael Regan/Getty Images, iStockphoto
When Ryan Lochte mentioned he was looking to break into the TV business after the Olympics, no one assumed he meant, you know, acting. To his credit, Lochte seemed well aware of his very limited dramatic abilities and claimed to be keeping his sights set on reality shows like Dancing With the Stars. But today, TV Line reported that he'll have a guest role on season five of 90210. For a terrifying moment, we thought audiences would be subjected to him reciting scripted lines with actual feeling — just imagine the awkwardness! But don't worry: He's going to be playing himself. Says TV Line:
The aquatic superstar will turn up as a guest at a resort where the recently-reunited Naomi and Max are staying in an attempt to strengthen their relationship.
Yes, a resort! Which means lots of shirtless beach scenes; hopefully he'll even get to wear board shorts and maybe even grow out some body hair for once. One final point: Bebe has a special 90210 fashion line, available on the CW's website, and it has occurred to us that Bebe's appreciation for flashy bedazzling and white denim matches up perfectly with Lochte's sensibility. Fingers crossed that this 90210 gig might spawn the collaboration he's been dreaming of — after all, Bebe really hasn't been the same since the Kardashians.