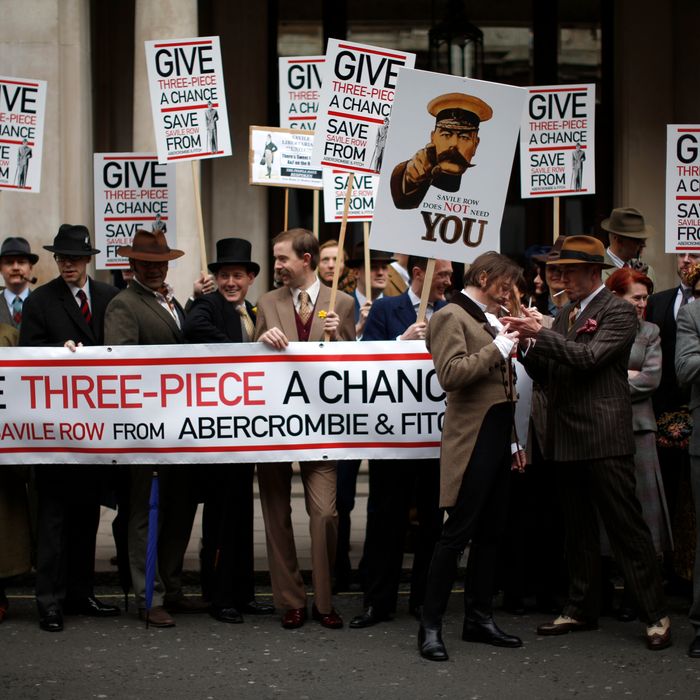 Abercrombie protesters on Savile Row.
Photo: AP Photo/Matt Dunham
When Abercrombie & Fitch opened their big flagship on the Champs Élysées in Paris last year, they fêted themselves with 101 hunky, smooth-chested male models, all lined up in a neat row along the sidewalk (it's Paris, after all — couldn't have them crowded about all willy-nilly). One would think that the randy Brits, with their enthusiasm for cheerleader butts and David Gandy, would embrace the idea of a similarly raucus Abercrombie opening party. However, when plans for a second Abercrombie store on Savile Row were announced in April, the local tailoring businesses protested its arrival and made sure that any plans for shirtless models would be nipped in the bud by the Wesminster City Council.
Local municipal authorities released the following statement to British Vogue today:
"Savile Row has a unique character — currently there are no high-street chains present," a spokesperson for Wesminster City Council said. "A management plan should be put in place to ensure this character is retained."
Plans for the store's opening are reportedly on hold. Which might be wise overall, given the retailer's fiscal difficulties of late.