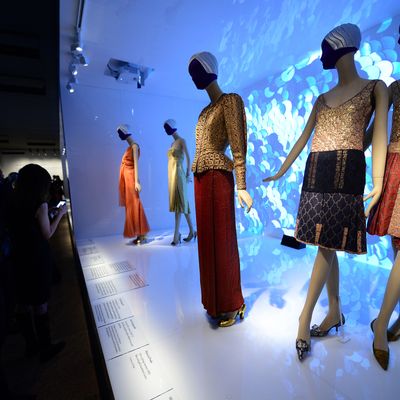 Schiaparelli & Prada: Impossible Conversations.
Photo: EMMANUEL DUNAND/AFP/GettyImages
Even before "Schiaparelli and Prada: Impossible Conversations" opened in May, curator Andrew Bolton told us he wasn't expecting to repeat the success of last year's McQueen exhibit, which shattered attendance records and was so popular the museum extended its run twice. Instead, this year's exhibit was more modest in size and scope, and in turn ran up a total attendance of 339,838 viewers by the time it closed quietly this past Sunday, according to the Times. For comparison, McQueen had almost double that, with 661,509 visitors. Other recent popular Costume Institute shows include the 2008 exhibit "Superheroes: Fashion and Fantasy," which drew 576,000 viewers, while the 2001 exhibit on Jackie Kennedy had 559,902.
So why weren't people that into this year's show? Perhaps it had something to do with the fact that a lot of them had never heard of Elsa Schiaparelli, whose relatively short-lived fashion house closed in 1954. Meanwhile, the clothes on view were fun and whimsical, but didn't have nearly the kind of dramatic impact as, say, "Superheroes" or McQueen. However, the curators knew this from the start. Bolton explained last spring:
We deliberately wanted to do something more high-concept and more intellectual than an emotional experience. We also wanted to focus on designers who are able to marry their conceptualism with practicality. 
The resulting show was something that people probably described to their friends as, "Oh, it was interesting," instead of, "OH MY GOD, YOU HAVE TO SEE IT." Which, at the end of the day, makes up the difference between 339,838 and 661,509 .